Notes, 2022-01-03.
In May I joined Spencer as staff at The Prepared, effectively doubling its headcount overnight. But this newsletter is built by so many people: the 15 guest writers who graced your inbox in 2021, the hundred of Members who join us every day on Slack, our sponsors, and of course, dear reader, you.
It was a year shaped by unexpected demand and logistical lags up until the very end. But I weathered it a lot better thanks to this community of practice, thinking through the world of atoms while hanging out in the world of bits. These final thoughts on the year have been informed on all levels by The Prepared community writ large. Thanks for being a part of it.
---
The most clicked link from last week's issue (~11% of opens) was a video explaining JWST's goals that Spencer and his daughter watched many, many, many times over.
Planning & Strategy.
Over the past six months I've edited three of our reading group author chats. The transcripts regularly run over 10,000 words (too long to run in the newsletter), so I fastidiously cut them down by 80%. The most challenging aspect of this is carrying the narrative through the piece; these conversations are led largely by the interests of the Members in the Zoom meeting, and they often meander in ways that are simultaneously delightful and a bit hard to follow when you strip out all the gesticulating and nodding that Zoom has trained us to do over the past two years. The Cameron Blevins interview as we ran it is about the tension between public and private ownership, but could have just as easily been about archival research and how data shapes our understanding of history; the Michael Malone interview as we ran it is about the rise of Apple, but we also talked extensively about how technology journalism has shifted over the past 40 years. In our interview with Kate Darling, I focused on animal/robot analogies, and discussions about automation and work didn't make the final cut. Here's an interesting quote about legislating responsibility with human/robot teams:
There is a danger in how legal responsibility depends on our biases. Recently, there was an Uber accident with a semi-autonomous vehicle - there was a driver who was supposed to be paying attention but a pedestrian was killed. All of the blame fell on the driver, which is what the automobile companies want. But when you have humans and robots making a mistake together, we need to be really careful about not falling into this automation bias where we trust the automation and blame humans. I think the problem is not merely the simplification of responsibility, but that we will simplify it in the wrong way.
I love science fiction, and was delighted when Anna and Kelly included Ursula Le Guin's Brief Rant on Technology in their recent issue: "Our human-built surroundings are an accretion of once-advanced technologies. Each new development bakes in a new set of affordances, habits, and ways of being in the world." Le Guin's The Dispossessed is my favorite novel; it presents an anarchist world where everything from language to material culture is shaped by the absence of private property, which becomes foundational to a divergent technological paradigm. I wouldn't want to live there - the society is anti-science and run by a spooky shadow bureaucracy - but the thought experiment reinforces the fact that emerging technologies don't have a predetermined outcome and resistance is not futile. See also Kane's reminder that the formless metaverse has a specific history in dystopian science fiction.
Making & Manufacturing.
I want to take a moment to celebrate Christopher Payne, the photographer behind many of the incredible factory photo essays we've run this year. His portfolio is incredible, and captures both the dizzying scale of modern manufacturing and the craftsmanship of skilled workers.
I didn't make much physical stuff this year, so instead I've lived vicariously through the project updates posted in the Members' Slack. I particularly enjoyed seeing Michael Dales prototype the joinery for a sintered nylon and wood guitar. Thanks also to Michael for introducing the lunch crew to the term fettle: "to prepare or arrange (a thing, oneself, etc), especially to put a finishing touch to."
Maintenance, Repair & Operations.
I've been trying to pay more attention to the work of rebuilding infrastructure after disasters. I was shaken by the drone footage of BC's washed out Coquihalla Highway, and it was heartening to see the highway reopen within a month thanks to the tireless work of maintenance crews and engineers. I've also learned that after communities are decimated by disaster, the rebuilding and repair work is often carried out by migrant workers who face labor abuses and abysmal working conditions. The slow and comparatively quiet work of rebuilding follows in the wake of dramatic calamities, but with increasingly extreme weather, resilience work is a multi-billion dollar industry with workers who need protection and industry-wide standards.
The price of lumber has dropped back down from its peak in May (over $1600 per 1000 board feet, up from $400 per 1000 board feet in January 2020) when Brian wrote a comprehensive breakdown of the market. The effect of the February 2021 Texas Ice Storm on prices surprised me most:


Because the storm occurred with very little warning, many factories weren't able to shut down properly, resulting in polymers congealing and solidifying in the equipment. In many cases significant repairs were required before production could be brought back online, and as of mid-March only 60% of production had been restored.

In addition to drywall joint compound, PVC pipe, and dozens of other building products, polymers and resins are key components for the glues in manufactured wood products such as plywood, OSB, and gluelams.
There were some exciting wins for the consumer right to repair movement, including Apple announcing self-service repair, the release of the modular, highly repairable Framework laptop, and Patagonia partnering with iFixit on a care and repair guide.
At the start of 2021, I had never heard of Mohammed Nuru, SF's former director of public works. In 2021-09-06, Ruth expressed her frustration with SF's barely functional self-cleaning toilets, "a more expensive and less functional descendant of the pissoir, which kept drunk men from dirtying the streets in 1800s France." Soon after, a reader tipped me off to another costly public works project in San Francisco, this time a redesign of the municipal garbage cans that was estimated to run between $6 and $16 million. And in 2021-11-22, Divya covered Recology's no-bid contract for SF's trash - and the unwarranted rate increases they tried to pass on to residents. These incidents are all related to the corrupt dealings of Nuru - characterized by the court as a "sweeping scheme to defraud the San Francisco public of its right to his honest services." The three stories we covered are a small fraction of what he's pled guilty to; the FBI is continuing to investigate corruption in the city government, and it's outrageous that in a city with the highest income inequality in California, millions of tax dollars have been allocated so poorly.
Distribution & Logistics.
Inspection, Testing & Analysis.
Tangents.
Pour one out for the Ever Given.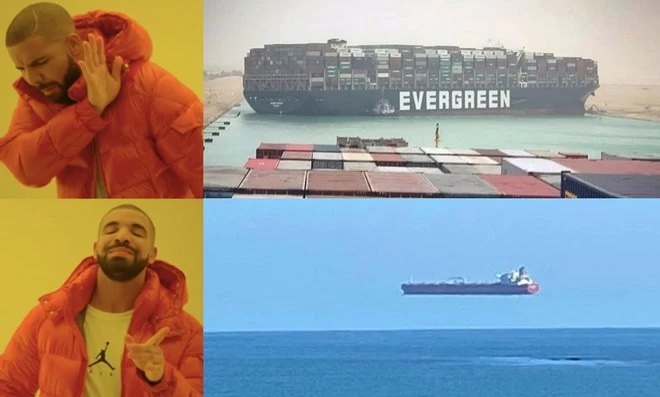 Thanks as always to The Prepared's Members for supporting The Prepared and for being my favorite place to hang out on the internet. Thanks to Sava for introducing me to the Borg complex. Thanks also to our 2021 guest writers: Amreeta, Anna, Brian, Dan, David, Divya, Eric, Kane, Kate, Kelly, Lee, Payton, Ruth, Sean, SJ, and Surjan. I feel very grateful to work with all of you.
Love, Hillary
p.s. - We care about inclusivity. Here's what we're doing about it.
---