Notes, 2021-09-06.
Social movements are evolving all the time, and an interesting example I keep coming back to is how new atheists turned into social justice advocates nearly overnight after realizing that fewer religious people did not equal less bigotry. Many of the movements of our day focus on the actions of individuals, such as energy conservation, curbside recycling, reusable bags, and ethical consumerism. Yet it's pretty implausible that members of the public can significantly reduce climate change, pollution, or unfair labor practices on their own. I hope that the next evolution of social movements will start to approach systems, too.
---
The most clicked link from last week's issue (~14% of opens) was artist Richard Ankrom's guerilla freeway sign installation. In the Members' Slack, we've been sharing best practices for maintaining project documentation and for avoiding burnout.
Planning & Strategy.
Curbside recycling does not work as well as most people think: Recent research by Greenpeace reports that only #1 (water bottles) and #2 (shampoo, laundry detergent containers) plastics are actually recyclable. That is, most American recycling facilities are landfilling all the other types of plastic. Growing public concern about plastic pollution has influenced some state-level bills this year, which vary in tactics. States are targeting recycled content minimums, extended producer responsibility, or plastic bag bans. I'm skeptical of the plastic bag bans, which backfired in California.
In the 1990s, an independent inventor developed a cost-effective retractable syringe that can prevent the spread of HIV and hepatitis by making needle reuse impossible. Becton Dickinson, a multinational medical devices corporation, managed to block the safer retractable syringe from being sold by bribing the hospital Group Purchasing Organizations that dominate the industry. The ensuing legal drama even inspired an indie film, starring Chris Evans. GPO monopolies are still creating problems today; the FDA recently highlighted the role GPOs play in drug shortages. GPOs only buy generic drugs at super low prices, which means that there's less incentive for manufacturers to make them.
As you may have suspected, carbon offsets suck. An analysis of the Brazilian Amazon showed that carbon offset projects performed nearly sixty times worse than advertised. It's only getting worse - climate change is increasing the dry season, causing trees and plants to die faster, which transforms parts of the Amazon rainforest from a carbon sink into a carbon source. Who's responsible? On the certification side, nonprofits are approving bad carbon offsets. On the supply side, companies that sell carbon offsets are overvaluing their assets by millions of dollars.
Making & Manufacturing.
Maintenance, Repair & Operations.
Distribution & Logistics.
Inspection, Testing & Analysis.
Tangents.
I was surprised to learn that we had a quarter million units of public housing in 1978. President Reagan slashed this funding in the 80s, causing a three to fourfold increase in homelessness in many cities during that decade. Now, we have 25,000 units - a tenth of what we had before. Federal funding for homelessness is one third of what it was in the 70s, while expenditures for homeowner subsidies have increased threefold.
Bangladeshis taking apart a ship for scrap, with no machinery, from Edward Burtynsky.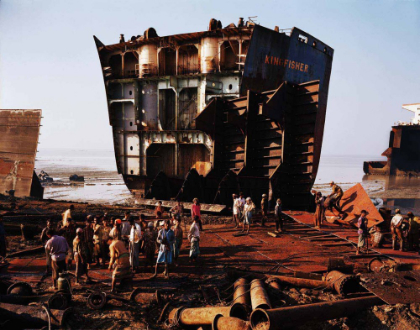 Thanks as always to The Prepared's Members for supporting The Prepared. Thanks also to Barry Lynn for writing Cornered, and to Dad, Jonas, and Cassie for links. Thanks to Members of The Prepared's Slack (Saket, Jeffrey, Victoria, David, Skyler, Florian, Alex, Dave) for the shipping congestion discussion.
Love, Ruth
p.s. - Want to cowork virtually with other people who subscribe to The Prepared? Join the Focusmate group.
p.p.s. - We care about inclusivity. Here's what we're doing about it.
---