Notes, 2021-12-27.
I find solace, once in a while, in the insignificance of my own individuality. I am a unique snowflake, sure, but I'm also a vessel - for technical knowledge; for a set of cultural values; for good intentions, acted upon with varying degrees of wisdom and accuracy.
This perspective is particularly calming when I consider my station within the arc of western society. I live in a row home that is about a hundred and twenty years old; it was built speculatively, along with all the other buildings on our block, as upper-middle class New Yorkers moved out to the suburbs of Brooklyn when it was annexed in 1898. It's likely that the house is more fashionable today than when it was built. I'm also aware that every one of my home improvement projects makes it accumulate technical debt, and I like to imagine that as it has leaned into history, the building has become increasingly stubborn towards the humans who've inhabited (and hacked on) it. As Stewart Brand writes in How Buildings Learn:
When we deal with buildings we deal with decisions taken long ago for remote reasons. We argue with anonymous predecessors and lose. The best we can hope for is compromise with the fait accompli of the building.
It was not my intention to become a steward for the values of wealthy turn-of-the-twentieth-century New Yorkers, but neither do I want to argue with them. One might think that my home should be a vessel for my cultural identity and technological prowess. But the building really is stubborn, and when we disagree I find it's usually easier to concede the argument and become the vessel myself.
---
The most clicked link from last week's issue (~11% of opens) was a Tweet encouraging you to think of household clutter as a lovingly rendered Miyazaki background. In the Members' Slack, we're hosting our second annual book exchange and there are some great titles popping up. While it's fun to receive a book as a gift, the whole channel has become an excellent book recommendations list.
Planning & Strategy.
Making & Manufacturing.
A good Twitter thread on how Amazon switched from Sun servers to HP/Linux in the year 2000, nine years (not six, as the thread suggests) after the Linux kernel was released. The punchline of the thread is that after the move to Linux, Bezos realized just how much excess compute capacity Amazon had during non-peak-holiday season - and just like that, AWS was born.

Related: A 2021-12-07 outage at AWS US-EAST-1 took down a service that Amazon Fulfillment Services uses to communicate with its subcontracted delivery fleet. It apparently affected both Flex, their Uber-like "delivery whenever you want to" gig workers, and DSPs, the Amazon-branded vans which are leased to smaller, regional delivery companies.
From Joey Castillo, who was recently at his PCBA house inspecting first articles of his rad ARM-upgraded Casio F-91W watches, a reminder that (as yours truly has apparently urged upon him in the past) "you know a lot about the thing you're making, but you don't necessarily know a lot about making your thing."
Maintenance, Repair & Operations.
Distribution & Logistics.
The eventual launch vehicle will have a small first and second stage that will be able to propel a 200 kg payload to orbit after having cleared the majority of the atmosphere—it will coast to an altitude and velocity similar to the first stage separation of a Falcon 9. However, the forces on the orbital launch system and payload will be huge, with a sustained 10,000 g during spin up and the shock of the vehicle hitting the atmosphere at > Mach 6 (~2.2 km/s). The accelerator's bearings also have to absorb the sudden release of an 11-ton vehicle (multiplied by 10,000 gs), meaning the system will likely have to simultaneously release a counterweight with ~1 ms precision—how they'll manage an 11-ton counterweight moving at 2.2 km/s… will be interesting. SpinLaunch's progress is impressive—their ¼ scale system is already the largest diameter vacuum chamber ever built—but, they still have a long road ahead of them. Lucky for them, their fundraising has also been impressive, with $110 M raised to date. While it may eventually work on Earth, systems like this could have significantly better applications on the Moon or Mars where the atmosphere is thin or non-existent and the gravity wells are much smaller.

Anyway, my updated take on SpinLaunch: It's still crazy! But not as boneheaded as burning a bunch of fossil fuels every time we want to put a piece of hardware into orbit.
BrownCafe is a webforum which boasts 22 years of "UPSers talking about UPS." I found it via a thread on UPS Express boxes (which are supposedly reserved for UPS Express service, a rule which is apparently enforced "as much as the government enforces not cutting the tags off mattresses"). The level of discourse is about 10% helpful, 20% collegial, and 70% irreverent/juvenile; I enjoyed this thread on simple hacks for UPS drivers, and this one, started by an Amazon delivery partner driver, asking whether they should switch to UPS or ditch the industry and move into the construction trades.
An in-depth 2019 article on the world of museum-quality art, and how it is packaged, handled, and transported in inter-institutional loans. Related: a short, sweet, and descriptive video of how art crates are designed and fabricated.
Inspection, Testing & Analysis.
Tangents.
The root structure of Picea abies, and 1179 other plants and trees.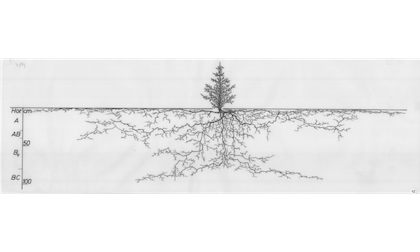 Thanks as always to The Prepared's Members for supporting The Prepared. Thanks also to the following readers for sending links: Rohan, James, Chad, Russ, Saket, Star, Ian.
Love, Spencer.
p.s. - We should be better friends. Send me a note - coffee's on me :)
p.p.s. - We care about inclusivity. Here's what we're doing about it.
p.p.p.s. - We're always looking for interesting links. Send them here.
---