Notes, 2021-12-20.
My home is overflowing with a Miyazaki-esque abundance of stuff. From the stacks of books to the antique wood furniture in various states of repair, my partner and I fill our apartment with objects acquired on our many trips to thrift stores and yard sales. So naturally, we took this tweet as a challenge - and stepped right up to it:
I don't know why we stopped doing show and tell after kindergarten. All my stuff is so much cooler now.

   -Andrew Nadeau
It was delightful. We sat in a circle with friends and shared stories of cherished garments, a box of teeth, and pieces of petrified wood. One of our friends brought pocztówki dźwiękowe, Polish sound postcards, that were one of the only ways to buy music under communism. While most of our friends aren't quite as obsessed with objects as I am, everyone had something to share that sparked real joy.
The latest season of the podcast Nice Try! explores all the ways we try to transform our homes into personal utopias, interrogating our relationships with devices like doorbells and slow cookers. In the end, it concludes with a love letter to a typewriter and a reminder that while there are problems with rampant consumerism, people form incredibly deep bonds with their things. So if I'm going to spend most of my time at home for the foreseeable future, I might as well commit to building a tiny utopia of bric-à-brac.
---
The most clicked link from last week's issue (~8% of opens) was a satisfying video of a tool for removing excess paper from the edges of a die cut carton. In the Members' Slack, our discussion of Stewart Brand's How Buildings Learn has been spiraling out in interesting directions, from LA's tax incentives encouraging rehabilitation and maintenance of historic buildings to the most architecturally unique McDonald's restaurants.
Planning & Strategy.
Making & Manufacturing.
Maintenance, Repair & Operations.
I once worked at a company that owned dozens of funeral homes and cemeteries, and while there I realized that companies frequently upsell grieving families on lavish monuments and services. These monuments add up: Annually we bury 2,700 tons of copper and bronze, along with 104,272 tons of steel and 1.6 million hectares of forest. I appreciated this essay as a reminder that there are many options for what happens to your body after you die, and throughout history funerary practices have ranged from practical to opulent. Water cremation has emerged as an interesting post-living alternative that avoids the intensive energy use of cremation and the land use of burial.
Anduril is open-source firmware for flashlights, allowing enthusiasts fine tuned controls for LED flashlights. The range of functions is pretty extensive (the shortest video tutorial I found runs over 15 minutes), with different combinations of clicks and presses activating strobe settings, brightness levels, and thermal throttling configuration. If you don't want to deal with all the variables, muggle mode makes Anduril lights function like any old flashlight. My flashlight enthusiast friend recommends getting started with the super-popular Lumintop FW3 family of lights.
Distribution & Logistics.
Some interesting speculations on how the rise of EVs marks the end of service parts availability for gas-powered vehicles. Also see this conversation about the Toyota part numbering system.
Amtrak has an entire system for accommodating, routing, and billing private train car trips, where privately owned cars are tacked onto the end of commercial trains. The rates aren't cheap, with each mile running $3.95. Some back of the napkin math put a trip from NYC to Boston at $746.55 and NYC to SF at $10,112. Additional costs include administrative fees, overnight parking, and the Amtrak-approved car itself (which runs between $150,000-$600,000). I will instead spend my time daydreaming about chartering one for a short trip and following along on Instagram.
Another spot to place the blame in the global supply chain crisis: deregulation and the Ocean Shipping Reform Act of 1998. Prior to OSRA, the U.S. regulated shipping as a public utility. In the 1970s deregulation in adjacent industries had driven down prices and policymakers wanted to extend the perceived market efficiencies to shipping. Prices fell at first, but later destructive competition emerged:


Ocean carriers immediately consolidated, and terminal operators consolidated in response. So did port traffic. In 1995, the top 10 U.S. container ports controlled 78% of traffic, by 2009 that was 85% of traffic. Smaller ports, especially those focused on exports, lost out. Remaining ports desperately spent money to dredge harbors and accommodate the mega-ships, for fear of being bypassed by the remaining giant carrier lines.

There were other serious consequences. The American shipping fleet disappeared, and U.S. shipping is now run by foreign ocean carriers (one of which is controlled by the Chinese government). The boom and bust cycle returned, with huge overcapacity leading to bankruptcies like that of Hanjin in 2016.

It seems unlikely that shipping would be reinstated as a public utility, but investing in mid-sized ships and ports could restore healthy competition and relieve the bottlenecks that benefit large carriers.
Inspection, Testing & Analysis.
Tangents.
Mexico City's Biblioteca Vasconcelos, photographed by Thomas Guignard.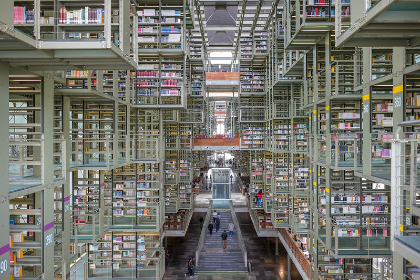 Thanks as always to The Prepared's Members for supporting The Prepared. Thanks to Marc, Stewart, Ruth, Ben, Rob, Jacob, and Richard for sending links and to Kate for introducing me to the Polish sound postcards. And, immense thanks to Daemon for both the links and the many hours of junk collecting.
Love, Hillary
p.s. - I'm working on a recap of stories we ran in 2021, drop me a line if you'd like to chat about what resonated in the past year.
p.p.s. - We care about inclusivity. Here's what we're doing about it.
---