Notes, 2022-06-06.
In Made in the USA, Vaclav Smil argues that "we should think of manufacturing as a value stream rather than a static category." He goes on to say that the North American Industry Classification System, which classifies businesses by discrete types of economic activity (see 3162 for footwear manufacturing, or 325520 for adhesive manufacturing), does not capture the reality of mechanization and computerization throughout the value stream.
The argument has stuck with me, and has helped clarify my thinking around what this newsletter – and The Prepared's larger mission – really is. Throughout our editorial process, we take pains to capture the edge cases in any given industry; the full value stream of manufacturing (from planning through distribution) is built into the template that we build each week's newsletter upon. We want to expand the discourse around how things get made, not just recap the comings and goings of firms involved in 332613, spring manufacturing.
And to Smil's second point, The Prepared is invested in documenting the technological shifts and computerized tools that weave together the sector today. We are, of course, a digital-first company. I write these words into a text editor, convert them to HTML, then trust enterprise software systems and the infrastructure of the internet to guide them to your inbox. And beyond our own operations, we're invested in the idea that technology reshapes processes - from ERPs and databases to additive manufacturing and delivery bots - but endeavor to carefully assess where a technology is in its hype cycle.
---
The most clicked link from last week's issue (~8% of opens) was a video of someone building a teeny cable-stayed bridge. In the Members' Slack, we've been swapping stories about maintaining and repairing outdoor equipment as the Northern hemisphere inches toward summer. If you have any insight into the economics of Arc'teryx's repair policy, I'd love to hear it.
Planning & Strategy.
I frequently refer back to this slide deck on being glue which the author describes as the sticky work of weaving a team together – creating documentation, onboarding new engineers, setting quality standards, etc. These tasks are critical, but are also often undervalued when candidates are considered for promotions. Doing too much glue work may get an engineer labeled "not technical enough" – something that tends to cut across gendered lines. What I particularly appreciate about this piece is that it acknowledges the work is important, provides a framework from which to advocate for people who do it, and maps different potential paths that keep glue workers in technical streams. Being good at people stuff doesn't need to lead to middle management!
Chile, the second-biggest producer of lithium and copper, is making moves to nationalize mineral development and to keep the wealth that the battery supply chain generates within the country. In the US, the Salton Sea might see a boom in lithium production, with extensive experimentation underway to determine how best to separate lithium chloride from geothermal brine.
I love BLOT2046, a somewhat mysterious project about designing with surplus goods for short-run production. It unfolds in nested layers when you subscribe, but it holds true to this tenant from the manifesto: "work in the semi-open: translucency not transparency." Some of my favorite insights:


execution depends on cultivation


get the smell of smoke in your clothes


there's nothing spiritual about exploitation


gatebreaking over guilds (9 times out of 10)
Making & Manufacturing.
Maintenance, Repair & Operations.
The demand for safe and secure bike parking in London far outstrips the available supply, so cyclists have taken to posting pictures of their bikes jammed into cramped apartments with the hashtag #ThisIsAwkward to advocate for more secure bike hangers to be installed. Even if Londoners are lucky enough to get off a waitlist and get a spot, bike parking is more expensive than car parking in many boroughs.
An interesting interview with (sponsor) Instrumental co-founder Anna Katrina Shedletsky, who discusses how hardware defects were identified and addressed on the factory floor during her time at Apple. I learned that defective products that make it into the wild are called escapes, and (of course) minimizing those escapes has huge implications for a company.
Distribution & Logistics.
Inspection, Testing & Analysis.
I'm always interested to learn about small interventions with high impact on greenhouse gas emissions, and better control systems for methane emissions is a cool one. Loci Controls makes a sensor-driven system that responsively adjusts the vacuum power to balance the rate of extraction from a methane collection well. At one test site, their system increased the collection (and sales) of CO2e emissions by 180,000 metric tons in one year. Adjusting the flow rates also keeps gases from entering the landfill, which is critical. Introducing oxygen can cause underground trash fires!
There was no sensible place to put a photo of this pallet stability testing laboratory in our recent feature on stretch wrap, but it's very cool.
I enjoyed this excerpt from James Vincent's new book, Beyond Measure. He covers the history of metrology, or the science of measurement, from the inception of the cubit 6,000 years ago to our contemporary metric-steeped existence.
Tangents.
A transmission tower, destroyed in the 1998 ice storm.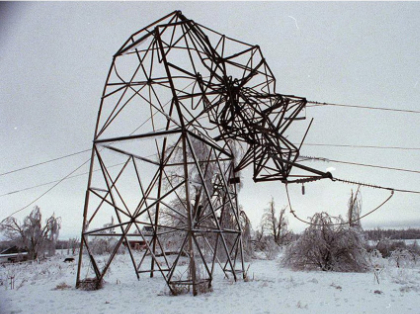 Thanks as always to The Prepared's Members for supporting The Prepared. Thanks also to everyone who shares their projects on Slack and everyone who shared links: including Claire, Andrew, Joey, George, Noah, Nick, Florian, David, Skyler, Rob, Emma, Andrew, Melinda, Joshua, Rob, Kane, Ezra, Dave, Carl, Adan, Michael, Cole, Dale.
Love, Hillary
p.s. - We care about inclusivity. Here's what we're doing about it.
---