Notes, 2022-04-11.
When I last wrote this newsletter, I was processing the jarring reconfiguration of life priorities bestowed by the pandemic. Spending time with family, learning to fly an airplane, and perfecting my homemade tofu wasn't all that bad – but how to integrate these experiences into Whatever Comes Next?
In preparation for this issue, I spent some time comparing my mindset then to how I feel now. The exercise did not yield any profound results. I suspect this is because I'm suddenly involved in a plethora of projects again (some even involving airplane maintenance and food production), and my brain simply transitioned into execution mode somewhere along the way.
It's refreshing. As I look outside, I see factories starting up, creativity flowing, and my little corner of the global supply chain forest beginning to heal itself. There was no grand startup moment, but regardless it seems as if we've begun to venture out into the world to make, learn and do. For real this time. Hopefully. Why spend time ruminating when we can just enjoy the flow?
As with my last issue, I hope that this week's collection of links provides inspiration, provokes thoughts, and inspires the synthesis of new ideas. But don't think too hard about it. It's time to get things done.
---
The most clicked link from last week's issue (~4% of opens) was the link from this recap: a gallery of shipping container architecture. We're planning an NYC Members meetup on 2022-04-24 – join today and swing by for beers and shop talk.
Planning & Strategy.
Things I Won't Work With is a column written by medicinal chemist Derek Lowe which details 'awful reagents' from some pretty wild corners of chemistry literature. The one on Hexanitrohexaazaisowurtzitane is a pretty good place to start: A compound that becomes less explosive when mixed with TNT? Hoo boy.
I recently spent some time helping out in the shop of an aircraft mechanic and was made aware of the FAA's Advisory Circular 43.13-1B, which contains "methods, techniques, and practices acceptable to the Administrator for the inspection and repair of nonpressurized areas of civil aircraft, only when there are no manufacturer repair or maintenance instructions." I've added it to my shelf of standards manuals to reference when figuring out how to build something - it contains process guidelines and instructions for a huge variety of materials and techniques ranging from doped fabric work to wood repair to torque specs for bolts of various sizes. "Good enough for the FAA" tends to be a pretty safe baseline for most projects not subjected to large forces whilst hurtling through the air.

Another useful document for specifying components is MIL-STD-975M, which is NASA's standard electrical, electronic, and electromechanical parts list. Need to decide on the perfect wire gauge as a function of jacket material, bundling, and current capacity for a space-constrained application? This doc has you covered.
Making & Manufacturing.
Maintenance, Repair & Operations.
In 2017, a ransomware called NotPetya wrought near-apocalyptic havoc upon international shipping giant Maersk. The story of how they fixed the infected systems is quite something: A significant portion of the company basically had to rebuild and reinstall software on 4,000 servers, 45,000 PC's, and 2,500 applications in just 10 days, while handling 80% of the actual shipping operations manually. The scale here is mind boggling: Maersk's fleet has a total capacity of around four million TEU, and a Maersk ship containing 10-20k containers enters a port every 15 minutes.
Here's a video from YouTuber Big Clive demonstrating a pretty clever flux atomiser for detecting hot spots and short circuits on PCBs. I love stuff like this. It feels like a real Shenzhen special – a clever hack birthed in the depths of an electronics market where skilled mobile phone repair people reside next to hawkers of orthogonal sorts of paraphernalia.
Distribution & Logistics.
In 1945, the US Navy spent $1 million to retrofit a barge into a portable ice cream factory and parlor. It was capable of storing 2,000 gallons of ice cream and could produce around 10 gallons every 7 minutes.
The so-called "jerrycan" (officially named the Wehrmachtkanister by its German military creators) is a masterclass in functional product design. Developed in the utmost secrecy by German engineers in the 1930s, this humble-appearing canister represented a huge step up in fuel transportation logistics. Three handles to make it easy to pass or team carry, recessed welding protects its seams and eliminates sharp corners, stamped X's on the sides allow it to expand and contract with changing temperatures, an air pocket affords floating on water…the list goes on. Here's a two-part blog post about how the details of its design were found out by the Allies during WWII.
"What if I told you that we could transform regular food into squares?" Meal-in-a-box food startup Squareat both asks as well as aims to answer this question by providing a subscription service for healthy, portion controlled, and rectilinear meals.
Inspection, Testing & Analysis.
An interesting Twitter thread suggesting that covid surges are correlated with upticks in negative online reviews for scented candles.
Nicole Branagan writes an excellent blog which covers esoterica related to technical details of vintage gaming systems. This post in particular is a really great deep dive into the architecture of the Nintendo Famicom/NES.
Sean Holloway has released some beautiful animated visualizations of black holes which use a custom relativistic ray tracing engine. Blog post here, source code here. See also: Kip Throne's work on visualizing a black hole for the movie Interstellar.
Tangents.
Fabrication of Jeff Koons' Pink Ballerina sculpture was started in 2014 and took around 8 years to complete.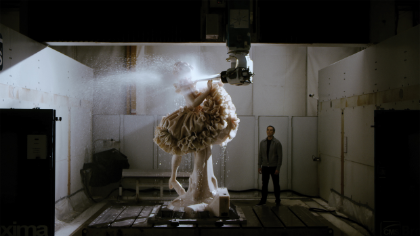 Thanks as always to The Prepared's Members for supporting The Prepared. Thanks also to Matt, Ananda, and Smokey for links and inspiration.
Love, David
p.s. - We care about inclusivity. Here's what we're doing about it.
---