Notes, 2022-04-04.
The use of resources around us – to create tools, harvest energy, and grow food – has been integral to human existence from our very beginnings as a species. We use (and use up) resources at hand: clean air and water, wild plants and animals, and more advanced resources, like rare-earth metals and hydrocarbons (the latter of which should now clearly stay in the ground). While we take the availability of these resources for granted, hundreds of generations of our ancestors worked to learn the skills needed for their extraction and use.
In aerospace, in situ resource utilization (ISRU) is the use of locally available resources for the manufacturing of fuel, food, and objects outside the atmosphere of our exceptionally cushy home planet. For example, using Martian or Lunar regolith (the top layer of loose material on celestial bodies that have a solid rock subsurface) as a manufacturing material to make shelters. While significant R&D has gone into ISRU techniques, very few have actually been demonstrated in space… but that is starting to change. With NASA & ESA's Artemis program returning to the Moon, and the China National Space Administration's program hot on their heels, local resources like the scarce water frozen in shadowed lunar craters will soon become valuable, and likely contested, resources.
If we want people to live in space long-term, we have to do it sustainably. Space is unforgiving to poor planning – if your oxygen recycling system leaks, if you run out of fertilizer for growing food, if you don't have enough fuel, that's it. Like resources on Earth, resources in space are not infinite and require progressively more energy to obtain and transport as the most accessible sources are consumed. And despite the click-generating false dichotomy that plays investment in space against investment on Earth, there's a symbiotic relationship between the two. A solar-powered Sabatier process that converts CO2 to CH4 (methane) can be used on Earth or Mars, and splitting water into hydrogen and oxygen has applications for both Earthly energy storage and propellant generation on the Moon. Like counter-top microwaves and integrated circuits developed for Apollo, or Earth observation satellite data which provide the foundation for tracking climate change, we believe ISRU will continue the long history of space exploration benefitting life on Earth… even as we expand beyond it.
- Andrew Cantino & Ben Lachman
---
The most clicked link from last week's issue (~10% of opens) was a collection of buildings that show the breadth of shipping-container architecture. In the Members' Slack, the #tools channel has been buzzing with advice on the best order of operations to remove a stripped bolt and the best way to keep a CNC router's racks and pinions greased. Also, advice for picking up some very nice clothespins.
Planning & Strategy.
Making & Manufacturing.
After early investor enthusiasm for the now-defunct asteroid mining startups Planetary Resources and Deep Space Industries, TransAstra Corporation is one of the few remaining companies still pursuing asteroid mining, albeit mostly through NASA research contracts. Their proposed 5-ton Honey Bee miner is designed to encircle a rock the size of a house with a thin-film bag and then extract water and other volatiles by heating it with focused sunlight – the asteroid's material spalls when exposed to high temperatures and is captured by the surrounding low-pressure bag. The same sunlight reflectors used for this optical mining can be used for solar-thermal propulsion by heating and expelling asteroid water as fuel. The much larger 40-ton Queen Bee, designed to launch on SpaceX's Starship, would begin to approach the scale required for industrial ISRU. Meanwhile, the much, much smaller Mini Bee is aiming for a 2023 launch for a small-scale low Earth orbit demonstration.

To get a sense of the kind of spacecraft being developed by TransAstra, we recommend Daniel Suarez's well-researched sci-fi novel Delta-v about asteroid mining. Its spacecraft borrow from TransAstra's designs (plot spoiler alert).

Another company working on asteroid mining is China-based Origin Space. They launched a test satellite last year that can approach and capture small objects with a net and are working on telescopes to prospect for near-earth asteroids.
One promising method for metal extraction is biomining, where bacteria, plants, or other bioaccumulating organisms are used to concentrate and extract minerals. Biomining is already used terrestrially for 10-15% of copper and ~5% of gold extraction annually. The BioRock experiment on the ISS recently extracted rare earth elements from basalt, potentially showing improved performance in microgravity over terrestrial conditions.
We'll need to build creative habitats on Mars and the Moon. Some will probably be 3D printed out of regolith like Marsha, the winner of NASA's 2019 Mars habitat printing challenge (you might also be able to get yourself one for here on Earth). Other habitats could be made from repurposed lava tubes and caves (here's a map of 1,000 likely cave entrances on Mars). We might even end up using unexpected (and uncomfortable) in situ resources in construction materials, like astronaut blood as a concrete binder, or urine as a plasticizer.
Maintenance, Repair & Operations.
NASA and Maxar's Robotic OSAM-1 mission is nearing construction. The mission will assemble a 3-meter functional communications antenna and also manufacture a 10 to 20-meter long carbon composite structural beam. Finally, the mission will refuel an unsuspecting target spacecraft – "[using] a robotic arm and tools to grapple Landsat 7 and provide the Earth-observing satellite launched in 1999 with more fuel" – not something it was built for.

OrbWeaver, a related orbital service and maintenance mission, will slowly chew away its aluminum payload adapter and then smelt the chips into hexagonal antenna sections. While not traditional ISRU, the ability to use expended spacecraft bits to build other, more useful bits, is closely related. Cue satellites that eat other satellites.
The robotic vehicles MEV-1 & 2 have now successfully attached themselves to very expensive geosynchronous satellites, taking over their station-keeping operations, extending their lives by up to 15 years, and in the case of MEV-1, resurrecting a satellite that had been moved to a graveyard orbit.
Distribution & Logistics.
A self-sustaining presence on Mars would require 100% ISRU, just as we do here on Earth. This would mean the production of both raw materials and high-complexity products like semiconductors and pharmaceuticals, outlined in this meta-analysis of the hypothetical colonization of Mars.
SpaceX's Starship, a fully reusable launch system designed for high launch rates (maybe even multiple times per day), would dramatically reduce costs for getting things into space – it could reasonably decrease current launch from ~$2,000/kg to $200/kg, and SpaceX is targeting < $100/kg. Given these reductions, launching fuel and material from Earth for use in cislunar space is likely to remain cost-effective for a while. This paper estimates that propellant production costs on the Moon would have to be $4,000-$8,000/kg to be economical when compared to launching from Earth on current commercial launch vehicles. Starship only makes these economics more Earth-favorable, so we're unlikely to see fuel tankers launching from the Moon for refueling cislunar spacecraft anytime soon.
Inspection, Testing & Analysis.
Tangents.
An entrance to one of the Undara lava tubes in Queensland, Australia.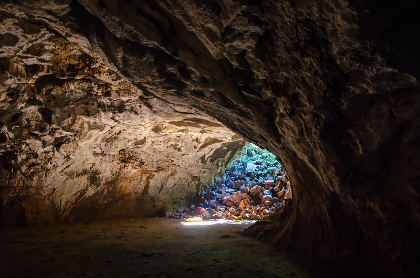 Thanks as always to The Prepared's Members for supporting us. Thanks also to Jatan of Moon Monday for topic suggestions for this week's issue. If you enjoyed our perspective and want an enthusiastic dose of space science and technology nerdery every week, we humbly suggest subscribing to our newsletter, The Orbital Index.
p.s. - We really enjoy talking about space and climate. Send us a note and we'll have a lovely chat.
p.p.s. - We care about inclusivity. Here's what we're doing about it.
---