Notes, 2021-05-31.
In March 2020, I abdicated the lifestyle of an intellectually promiscuous on-demand fixer of hardware, design, and production projects. Heading back home to Colorado to assist my family's small medical practice was quite a change; gone were spur-of-the-moment trips to Shenzhen and long days inside consisted mostly of helping one another (and our patients) stave off The Fear. C-beams glittering in the dark near the Tannhäuser Gate and all that.
In between maintaining a fax machine, sourcing PPE, washing surgical drapes, and building out telemedicine infrastructure, I found myself seriously wanting for new stimulus. Days were filled by going to the same tiny regional airport to work on my private pilot license (what better time to cultivate a hobby which necessitates sitting alone in a noisy box for hours on end), and iterating upon the process of making homemade tofu. And in the end, I was lucky enough to double down on relationships, make meaningful progress toward some neglected life goals, and not worry so much about manic devotion to the latest and greatest. Sometimes, my laptop wasn't opened for days at a time. It was monotonous and deeply scary for the first few months, but then…..oddly refreshing.
That being said, writing this issue of the Prepared has been an opportunity to reopen dormant neural pathways and connect with friends for reasons other than to check in on one another's health. It is heartening to feel seeds of ideas unrelated to solving a global emergency beginning to form once more, and I feel a glimmer of hope (perhaps even excitement) about the prospects of taking our collective and newfound perspective on what's important and applying it back again into the beautiful chaos of making physical things and experiences that no amount of endless zoom calls and experimental Twitch streams can replicate.
---
The most clicked link from last week's issue (~16% of opens) was an explainer on why prototype cars use dazzle camouflage. Popular threads on the Members' Slack last week included one on first-hand experience with Starlink, one on how uncannily good GPT-3 is, and like four separate threads on Spencer's not-so-hot take on how Harbor Freight tools are low quality.

This week The Prepared's (Members!) reading group is having its first discussion on Full Spectrum, Adam Rogers' new book about the science of color. We've got the author himself joining us for at least one of our discussions, too :)
Planning & Strategy.
Making & Manufacturing.
Maintenance, Repair & Operations.
The famous SEG plaza building in the heart of Shenzhen's electronics markets was affected by a mysterious shaking incident. There was no earthquake recorded in the area, and investigation is ongoing as to what could have caused it. The building does not feature a tuned mass damper system, and an initial report suggested that the swaying could have been caused by a fluid dynamics phenomenon called a Kármán vortex street forming as a result of a rare syzygy between wind, vibrations of the subway line below the SEG Plaza, and temperature differences inside and outside the building.
The face of CPR Annie, the popular mannequin used to teach mouth-to-mouth resuscitation in CPR classes around the world, is a copy of the death mask of a 16 year old Parisian suicide victim from the late 19th century.
Cybernetic Revolutionaries is a great book which details the rise and fall of Project Cybersyn, a project undertaken by Chile's Allende government with the help of cyberneticist Stafford Beer to develop a computer system which would run the country's economy. Although it was not completed before the coup which removed Allende from power, this book is a fascinating view into what could be the closest a government has gotten to implementing something like this. More here from 99 Percent Invisible, including photos of the sleek central operations room.
Distribution & Logistics.
Inspection, Testing & Analysis.
Tangents.
In Medieval music, the Guidonian hand was a mnemonic device used to assist singers in learning to sight-sing.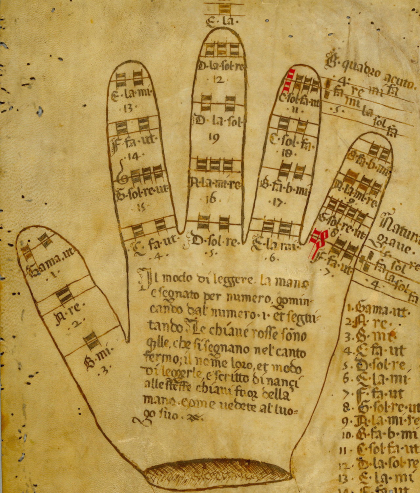 Thanks as always to The Prepared's Members for supporting The Prepared. Thanks also to Rehmi, Ananda, Matt, Choong, Becky, Thaddeus, and Vincent for helping me out with links and invigorating discussion.
Love, David
p.s. - If you've got a scheme that needs scheming or just want to chat, feel free to sliiide into my DMs. As is Prepared tradition, coffee's on me :)
p.p.s. - We care about inclusivity. Here's what we're doing about it.
p.p.p.s. - Seriously though, what IF the banana was orbiting the earth at the same distance as the International Space Station?
---