Notes, 2021-10-18.
When a country develops a strong manufacturing industry, its overall power and prosperity rises in lockstep. From the birth of the industrial revolution in England to China's rise from an agricultural economy to the factory of the world, investing in manufacturing transforms national economies.
Mass production offers efficiencies that transform a given input of labor into a greater output of stuff - an undeniable driver of growth. However, the real catalyst is the complex knowledge and skills the industry creates. Researchers at Harvard's Growth Lab have found that manufacturing knowledge is directly related to economic complexity, meaning that when countries produce increasingly complex products, workers produce more varied forms of knowledge which are in turn accumulated, transferred and preserved within the local economy. Even a relatively simple product, like a shirt, requires skilled workers who can handle procurement, production, marketing, distribution, and financing. The factory also requires roads, ports, airports, and stable power and water infrastructure to get those shirts out the door.
Developing this necessary combination of diverse knowledge and stable infrastructure opens space for adjacent economic activities, which is why countries see accelerated economic growth when manufacturing succeeds. It becomes easier to provision a film crew, or open an accounting firm with these pieces in place. So, whether you're building out film sets, or fiddling with a subassembly, remember that sometimes the less we know individually, the more successful we are together.
---
The most clicked link from last week's issue (~10% of opens) was a guide to understanding the Sanborn Map Company's historic fire insurance maps. On the Members' Slack last week, there was a real popular thread (h/t Skyler!) of photos of everyone's go-to engineering desk tools, from TEC Sharpies to deadblow hammers to SD cards preloaded with Raspbian; it really was quite fun. Also last week we also sent out The Prepared's 2021-Q3 report (highlights here) to Members and sponsors; thanks to *you* for helping us cross 12,000 subscribers!
Planning & Strategy.
Making & Manufacturing.
Maintenance, Repair & Operations.
I've always used the words flotsam and jetsam to describe random bits of debris, but both actually have precise definitions within maritime law. Flotsam refers to floating debris or cargo resulting from a wreck or accident, whereas jetsam refers to cargo that was intentionally discarded, or jettisoned, from a vessel. Maritime law also protects those who retrieve either flotsam or jetsam, meaning that it's fair game to salvage containers that wash ashore.
In 2018, San Francisco's public works department decided to redesign all public garbage cans, seeking an aesthetic solution to public waste. The city is footing a bill of nearly half a million dollars to produce the prototypes, while estimates for manufacturing and deploying the cans citywide run between $6 and $16 million. The high costs have prompted questions about the fiscal responsibility of such a custom solution. The project was initiated by Mohammed Nuru, former Public Works director, who stepped down after being arrested on federal corruption charges (also see the JCDecaux scandal in 2021-09-06) and critics insist current politicians need to cancel the project and reverse Nuru's legacy.
Distribution & Logistics.
Secondhand clothing from the west is imported in bulk to Ghana where the garments are resold and shipped throughout Africa. The vibrant industry supports thousands of people, but about half of the imported textiles are unusable, leaving the city of Accra with 160 tonnes of waste to landfill every day.
Alexis Madrigal talked through the implications of shipping bottlenecks in Southern California with journalists and port officials. Jennifer Smith, a reporter with the Wall Street Journal, really emphasized that personal consumption patterns, like buying local, don't effect the larger system. Whatever changes rebalance the flow of goods will need to be large scale, and she predicts we'll see more nearshoring than reshoring. In an attempt to ease the bottlenecks, the White House is working with key stakeholders to run Southern California port operations 24/7. Tangentially related: Alexis Madrigal's Containers podcast, produced in 2017, is fascinating and holds up today.
Inspection, Testing & Analysis.
Tangents.
Inside the galaxy conference room at Epic's bizarre Wisconsin campus.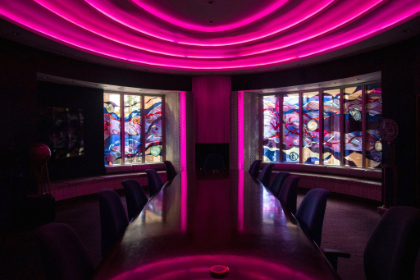 Thanks as always to The Prepared's Members for supporting The Prepared. Thanks also to Nadine, Christian, Kate, Daemon, Sagan, Rob, Jeff, and David for the links and stories. I had forgotten how interesting conversations with a bunch of nerds could be.
Love, Hillary
p.s. - We care about inclusivity. Here's what we're doing about it.
---