Notes, 2020-08-17.
More than a year ago, when Dan and I were combing through Apple's factory lists to build what eventually became Dong xi, I reached out to Matthew Hockenberry. I wanted to understand how Apple's products came to life, but their own reports only provide breadcrumbs. I asked him for advice: How could we better understand where and how parts turn into assemblies, and assemblies turn into finished products?
To answer my questions, he brought me a story about a distinct shift in Apple's supply chain. As he would later write of the iPhone 5c's colorful polycarbonate shell:
Despite the attention this case received in Apple's own marketing, critical analysis of their supply chain tended to focus on internal components like batteries and microchips—as if the object's most visible parts were somehow too obvious to study. But all manner of sins may be hidden in the mundanity of the visible. There is nothing remarkable about a leather case for a phone, or a leather strap for a watch. But its appearance on a customer's wrist nevertheless signals a shift in the supply chain—moving a company which indirectly deals in death to one which must, necessarily, manage a slaughterhouse.
On the one hand Apple's foray into plastic phones was mundane. But on the other, it signified a reordering of the lives and livelihoods of hundreds of thousands of people. His analysis, which traces the 5c's case from SABIC's raw Lexan and Jabil's Wuxi injection molding shop on to Pegatron's Shanghai assembly plant, is the latest feature on theprepared.org. I'm incredibly proud to have it.
---
The most clicked link from last week's issue (~14% of opens) was a Twitter thread of all the handles that Apple has put on Macs over the years.
Chatter from the paid subscriber Slack this week: Complex vs. complicated supply chains, "new tool syndrome," McMaster-Carr Swedish Fish, and prep for our latest reading group on The Unknown Craftsman: A Japanese Insight into Beauty.

Planning & Strategy.
Making & Manufacturing.
Maintenance, Repair & Operations.
Distribution & Logistics.
Inspection, Testing & Analysis.
Tangents.
Inside Hong Kong's $3.8B rain tunnel network.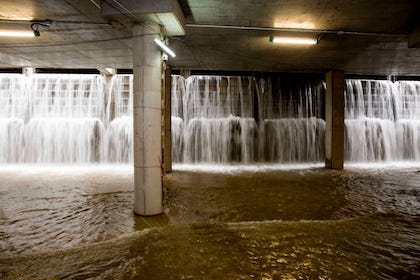 Thanks as always to The Prepared's paid subscribers for supporting The Prepared. Thanks also to the following readers for sending links: Xavier, Russ, Lucas, Laurence, Doug, Andrew, Philip, Nathan, Thomas, Tara, Lindsay.
Love, Spencer.
p.s. - We should be better friends. Send me a note - coffee's on me :)
p.p.s. - Whenever possible, we work to encourage inclusivity. Here's how.
p.p.p.s. - We're always looking for interesting links. Send them here.
---