Notes, 2020-06-01.
I support the demonstrations and oppose both racism and the American tendency towards violent policing. -SW
---
The Prepared's paid subscriber Slack has blossomed in a super cool way recently, and I've been thinking a lot about how to maintain and evolve a distributed (and diverse) community. It's something that I would never have expected to be a core aspect of my job; I have ambivalent feelings about my role as a leader in general, and there are aspects of online community management (and just the term "community management" itself) that strike me as unpleasant or unappealing. I also would have guessed that dealing with a growing online community during times of duress (and, holy shit, are these times of duress or what) would be particularly stressful, but the reality is that I have found it self-reinforcing and personally energizing.
To celebrate that, I suppose, I'd like to open up my calendar for more of you. If you're looking to discuss an obscure manufacturing topic, or are thinking about online communities yourself - or just want to chat over virtual coffee - book a call with me here.
The most clicked link from last week's issue (~12% of opens) was an eloquent argument for the importance of building things in the physical world.
Planning & Strategy.
Making & Manufacturing.
Maintenance, Repair & Operations.
Distribution & Logistics.
Shipping packages to commercial addresses is more profitable than to residential ones, and the difference is even more stark when the residential shipments are sent by someone with a lot of bargaining power, e.g. Amazon. As a result UPS has been left rather exposed over the past few months, with its domestic adjusted operating margin at the lowest it's been in 15 years. Note also an interesting datapoint towards the bottom of the same piece: Big box retailers have seen increases in curbside pickup, suggesting that consumers might be warming to the idea of (higher margin) centralized pickup options (a la Amazon Lockers and UPS Access Point Lockers).
Inspection, Testing & Analysis.
Tangents.
Ikea's stay-at-home fort plans.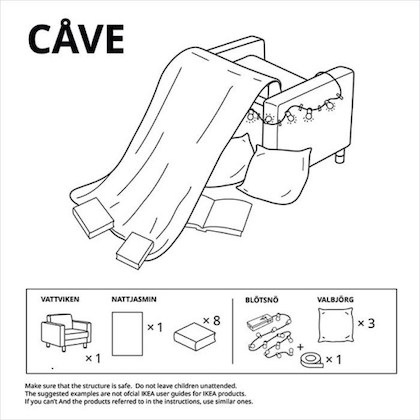 Thanks as always to The Prepared's paid subscribers for supporting The Prepared. Thanks also to the following readers for sending links: Peter, Andrew, Ben, Andrew, JonPaul, Dave, Corey, Xavier, Kevin, Paul, Reilly, Craighton.
Love, Spencer.
p.s. - We should be better friends. Send me a note - coffee's on me :)
p.p.s. - Whenever possible, we work to encourage inclusivity. Here's how.
---