Notes, 2020-05-04.
It may come as no surprise that my research trip to the high arctic I mentioned in my last edit has been canceled. Like billions of other people around the world, my daily life has been disrupted by the COVID-19 pandemic and I am in the process of making alternative plans for everything from how I buy groceries to what my life might look like in the coming months and years.
The hyper accelerated news cycle of 2020 has become saturated with coronavirus pandemic news and opinions; I am having trouble trying to figure out what is healthy news consumption and what is masochistic in the age of endless scrolling newsfeeds. I oscillate between focusing on the pandemic, indulging in escapism, and imagining what might come next. Whether you have been forced to stay home or have to work on the front lines, stay safe.
The most clicked link from last week's issue (~9% of opens) was a really fantastic Twitter thread on all the hacks in the human vision system.
Objects of my isolation.
Creative Destruction.
Slouching toward a green economy.
Imaginary Road Trip.
In my isolation, I dream about the places I might one day travel to. I dream of crisscrossing the deserts of America searching for megaprojects that represent the ambition (and folly) of the built world with my friends. Join me on an imaginary trip.
In Memoriam.
Remembering the dead is an important part of moving through this pandemic, and today I am including a note on a couple of people who've lost their lives to COVID-19, and the fascinating work they contributed to this world.
Tangents.
Organizational Chart of Erie Railroad, 1855.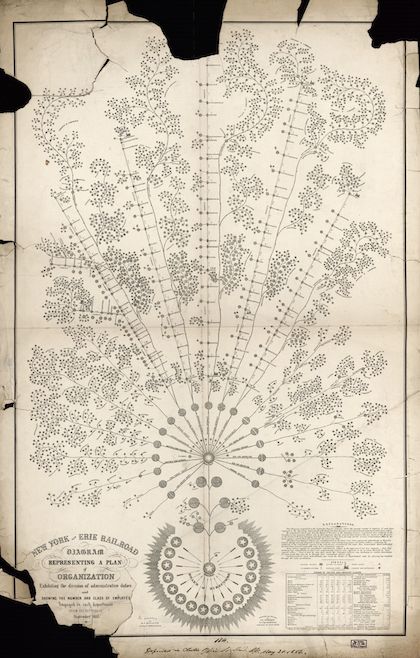 Thanks as always to our recurring donors for supporting The Prepared. Thanks to Lee, David, Andrew for links.
Love, Hillary.
p.s. - Whenever possible, we work to encourage inclusivity. Here's how.
---