Notes, 2020-04-27.
Since NYC's shutdown began, I've taken one evening a week to do what looks like a normal midweek routine that's been reflected through a funhouse mirror. After the kids are in bed I bike the ~2 mile ride to The Prepared's workshop alone to water the plants, grab a few tools for whatever home project I'm planning, and wipe the doorbell off with rubbing alcohol. It's an odd, almost meditative routine, made slightly more normal by the fact that the emptiness in the streets could almost be explained by the late hour at which I'm riding them.

There are a hundred other things I'd like to be filling my time with: Home improvement projects, old essay ideas I never got to, long term personal and business planning that, despite the uncertainty around us, would at least be an interesting exercise. But most days it's enough to just maintain a sense of normalcy + not get too underwater on email - tasks that I debate the importance and/or feasibility of, but which now more than ever maintain a monopolizing grip on my attention.

I'll be off the next few weeks, with a great slate of guest editors filling in. In the meantime, I look forward to chatting with paid subscribers on Slack + on Wednesdays for our virtual lunch <3
The most clicked link from last week's issue (~16% of opens) was a rather dismaying first-hand account of how FBI and DHS are seizing shipments of PPE bound for hospitals.
Relief efforts, etc.
The Open Standard Respirator is a modular, reusable, open source respirator designed for rapid and distributed production scaling. It is currently in advanced stages of DFM, including low volume runs on production tooling. They are currently seeking additional partners to help launch high volume production.
Montreal-based AON3D's page on COVID-19 resources, including face shield requests for health care workers.
Planning & Strategy.
Marc Andreessen wrote a widely shared blog post last week titled IT'S TIME TO BUILD, which I didn't find energizing but which I do, ultimately, agree with in many underlying ways. As Matt Yglesias and Ezra Klein hinted at on The Weeds podcast, there remains a fundamental mismatch between a16z's business model and a lot of the projects ("housing, schools, and hospitals") that Andreessen suggests we should be working on.
Uline CEO Liz Uihlein, a billionaire and prominent Trump donor, emailed all Uline employees urging them "to support a petition for the recall of [Wisconsin's] Democratic governor, Tony Evers, saying he was violating their constitutional right to work during the coronavirus pandemic." Uline call center employees are still required to report to work.
A good explainer of Cisco's "spin-in" strategy, in which the same team of executives (nicknamed "MPLS" for their initials) left the parent company repeatedly to form a series of startups whose sole investor was Cisco; if predetermined sales targets were hit, the startup was later acquired and the "founders" made a nice payday. Former Cisco CEO John Chambers "funneled over $2 billion to MPLS in the 20+ years they worked with Cisco," but his successor, Chuck Robbins, ended the model (apparently offending MPLS, who resigned en masse, in the process) on the idea that it created internal resentment. MPLS are now working on a company called Pensando, which gives "data centers more of the flexibility of cloud computing servers [and] is being positioned as a competitor to Amazon Web Services Nitro."
Making & Manufacturing.
Maintenance, Repair & Operations.
Distribution & Logistics.
Inspection, Testing & Analysis.
Boston Dynamics is apparently using/enabling others to use their Spot Mini robots in hospitals, mostly to carry IR cameras "in ad-hoc environments such as triage tents and parking lots." Their GitHub repo has a little more info, but at the moment it seems that Spot is limited to carrying an iPad (to enable some degree of telemedicine) and a thermal imaging camera (to measure body temperature and respiratory rate), with hints at efforts to add a pulse oximeter and a blood pressure cuff. There's also a note about adding a UV-C light source for hospital room disinfection, but the power requirements are beyond what Spot can handle "in a reasonable amount of time."
Tangents.
I'm looking for toddler-friendly iPad apps that roughly approximate the level of stimulation I recall getting from playing with LEGOs; send any recommendations here.
A good video history (12 minutes long) on the Mao-era Four Pests Campaign, a Great Leap Forward effort to eliminate rats, flies, mosquitoes, and (most notably) sparrows across China. Estimates range up to a billion sparrows killed in 1958-1959, on the theory that sparrows ate grain and that fewer sparrows in China meant more grain for the human population. The fallout was tragic: Sparrows mostly eat bugs, and locust populations soared without a natural predator, helping to decimate crops. The ensuing Great Chinese Famine killed somewhere between 15 and 45 million people. See also: These beautiful and harrowing posters promoting the sparrow eradication effort.
Overhead photos of the German steel industry.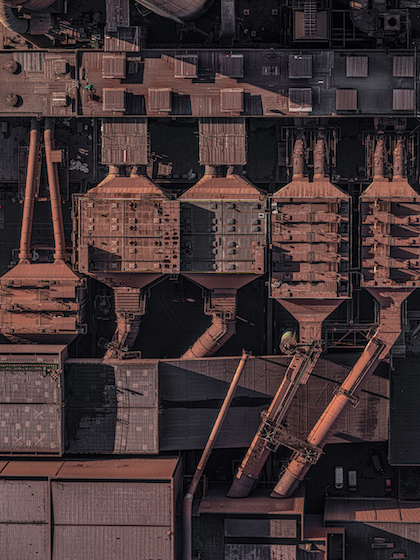 Thanks as always to our recurring donors for supporting The Prepared. Thanks also to the following readers for sending links: Andrew, Jacob, John, Corey, Noah, Nick, Sylvia, Russ.
Love, Spencer.
p.s. - We should be better friends. Send me a note - coffee's on me :)
p.p.s. - Whenever possible, we work to encourage inclusivity. Here's how.
---