Notes, 2020-02-24
Hello readers, Hillary here.
Since I was here last, I started a master's research project on waste issues in Canada's Eastern Arctic. Managing waste resources is a huge challenge worldwide and recycling systems across North America are failing to deliver the circular supply chain they promised. In the Arctic, where most communities are isolated, waste often stays on the tundra or is managed in open dumps. Recycling isn't a viable option and municipal solid waste is a small fraction of the waste left behind by military operations and resource development. My advisor, Dr. Hird, has written about the complicated intersection of settler-colonial development in Inuit homelands and the ongoing waste legacy, and I'll be continuing that work.
I am preparing to work in Pangnirtung, Nunavut this summer, assisting the municipal government to design a repair and reuse program to keep materials out of the dump. I spend a lot of time browsing library catalogs looking for books about repair and more than generalized theories, I find endless repair manuals from all disciplines. From repairing DNA to repairing concrete, humans are in a constant state of beating back entropy. Everything is always in need of repair. In the last issue of Kneeling Bus, Drew proposes entropy as a more powerful organizing principle for reality than progress. Often we get trapped in the growth ponzi scheme, expanding projects beyond our capacity to maintain them and hoping things will work themselves out down the line. How might we design systems that are a collaboration between humanity and entropy?
For a quick primer on how challenging it is to manage waste in the Arctic check out this podcast about dead cars in Alaska, and to understand how materials are shipped to the Arctic check out this (highly sensationalized) show about Arctic sea-lifts.
The most clicked link in last week's issue (~30% of opens) was an overview of how meetings are run at Amazon.
Planning & Strategy.
Making & Manufacturing.
Maintenance, Repair & Operations.
Distribution & Logistics.
Inspection, Testing & Analysis.
Tangents.
An extreme Mercator projection of Atlanta, GA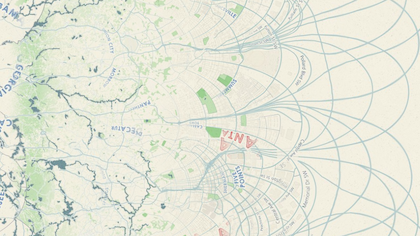 Thanks as always to our recurring donors for supporting The Prepared. Thanks to libi, David, and Tessa for links.
Love, Hillary.

p.s. If you have thoughts about entropy-centered design or repair in isolated communities, drop me a line.
p.p.s. - Whenever possible, we work to encourage inclusivity. Here's how.
---