Notes, 2020-03-02.
Last week I did my first subtractive CAM work basically ever; I've done plenty of manual machining and worked alongside a CAM operator for a time, but have never really done CNC setup myself. It was a good project, and one that I look forward to hacking on more soon, but mostly it made me a) happy that I spend a good portion of my professional life behind a keyboard rather than at a machine, and b) deeply, *deeply* appreciative of the fact that my keyboard is usually in the same room as a wide variety of machines :)

Unrelated: In a couple of weeks, The New York Infrastructure Observatory is reprising one of our most popular trips ever: A tour of the MTA's Coney Island Maintenance Yards. The Coney Island Complex is one of the largest train yards in the US, and (if I recall correctly from our 2015 trip) does all of the wheel and motor maintenance for the MTA's subway fleet; it's also on the National Register of Historic Places. If you're in NYC and interested in transit, it's a must-see!

Lastly, theprepared.org's awesome lab notebooks and pocket notebooks are up for sale on the Tool Guide; paid subscribers should please hit me up for a discount code.                                                                            The most clicked link in last week's issue (~16% of opens) was a contact print made by placing a puffer fish that was caught near the Bikini Atoll in 1946 on a photographic plate.
Planning & Strategy.
Making & Manufacturing.
Maintenance, Repair & Operations.
Distribution & Logistics.
Inspection, Testing & Analysis.
Tangents.
A set of hand drawn 1940s aircraft drawings.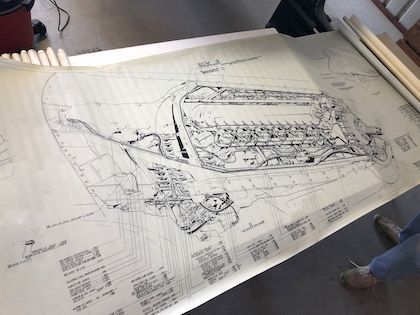 Thanks as always to our recurring donors for supporting The Prepared. Thanks also to the following readers for sending links: Lara, Rich, Joshua, Joel, Bradley, Tessa, Phillip, Ian, Nick, Robin, Rex, Eric.
Love, Spencer.
p.s. - We should be better friends. Send me a note - coffee's on me :)
p.p.s. - Whenever possible, we work to encourage inclusivity. Here's how.
---