Notes, 2022-06-20.
When I started thinking of engineering as art, my relationship to it improved dramatically. It was no longer an unachievable pinnacle of reason and logic, but a fluid artform, which I was free to explore in all of its different styles and movements.
I realized that my engineering education here in the US taught me just one of many possible styles of engineering, with textbooks largely filled with European examples and historical figures. So I started looking for areas where that one style had restricted my creativity. The first area I explored was stiffness and flexibility, through a post that Spencer included in the 2020-07-06 issue. Though flexible designs are perfectly viable, I'd always been taught to avoid flexibility. Just that one small change led me down some interesting paths and towards designs that felt more "me."
I want to continue that exploration, learning about different engineering and manufacturing styles than the ones I learned in school — techniques from places with different histories and cultural values. If nothing else, I hope the links below at least get you excited about finding your own style.
---
The most clicked link from last week's issue (~4% of opens) was a history of biscuit manufacturing in India. Join the Members' Slack today to plug into a network that goes deep on the history of manufacturing. Last week our Reading Group had our first conversation about The Fabric of Civilization, and dug into how sericulture (the cultivation of silk) is interwoven with the discovery of germ theory.
Africa.
Americas.
Asia.
Take an egg and remove the contents from the shell, then ignite a little mugwort tinder (inside the hole) so as to cause a strong air-current. The egg will of itself rise in the air and fly away.

…though this entertaining video shows that it might be more difficult than it sounds.
Oceania.
Tangents.
Plate 9 from the Voyage d'Hermès by Moebius.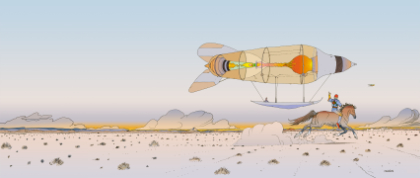 Thanks as always to The Prepared's Members for supporting The Prepared. Thanks also to Andrew for the link about the old pants.
Love, Surjan
p.s. - I've been working on inventing a new piece of ice hockey equipment, which I'm trying to get to the NHL. Follow along!
p.p.s. - We care about inclusivity. Here's what we're doing about it.
---