Notes, 2022-04-18.
While on a beach vacation in Gulf Shores, Alabama, I came across a massive dredge pump – a machine roughly the size of an SUV that was loud, dirty, and out of place on the white sands of the Gulf. The pump was clearing silt from a channel that joins an inland lagoon with the Gulf of Mexico, part of a 1990s court-ordered effort to control erosion and maintain the lagoon's water quality.
The process, which is called beach nourishment, is not without controversy. Though nourishment restores beaches and provides storm protection, its effect is short lived and must be repeated regularly – which, perversely, only amplifies the negative impacts on marine life. There are alternatives – like groins, breakwaters, and seawalls – but they come with their own list of downsides, and ultimately none of these local interventions deals with the real elephant in the room: climate change, which poses an existential threat to areas like Gulf Shores. Rising sea levels, more frequent flooding, and the steady increase in tropical weather events all contribute to the beach erosion the dredge pump is attempting to mitigate.
​​I sometimes find it difficult to visualize the impact of rising global temperatures on my daily life, but I tripped over this one on a walk to the beach. It is a clear indicator of the complex political, economic, and environmental battles that are already taking place – and will only increase in the future.
---
The most clicked link from last week's issue (~7% of opens) was the Wikipedia page for the underappreciated jerrycan. In the Members' Slack, our reading group is nearing the end of Space Forces by Fred Scharmen, who will be joining us to talk about the book this Friday. If you want to join our conversation about space and society, there is still time to join.
Planning & Strategy.
Iceberg Basements are a remarkable development phenomenon in cities like London. Building codes in these places do not allow significant changes to architectural style or building elevation, so the super rich have taken to building elaborate basements that are, as the name indicates, often larger than the homes above. Amenities include theaters, pools, ballrooms and even car museums. These projects are so popular that boroughs like Kensington and Chelsea have issued special guidance on subterranean development.
Making & Manufacturing.
Teardowns are inspiring - it is always fascinating to see an expert dive into the guts of a product and share their interpretation of various design decisions. I particularly enjoyed this teardown of the Snap spectacles by Prepared member Tyler Mincey. He points to a sophisticated little LED ring to illustrate how seriously Snap is taking this product architecture ("a tiny rigid flex (!) with surface mount components on both sides (!!), including 24 (!!!) LEDs"). Also see iFixit's gadget teardowns and teardowns as wall art.
This excellent piece from the NY Times provides a high level view of Intel's silicon chip manufacturing process, through two new $10 billion fabs in Chandler, Arizona. The price tag on these facilities is attributable to their staggering scale and complexity. To complete the project, Intel will employ 5,000 skilled construction workers for 3 years. They will move  680,000 cubic meters of dirt, pour 340,000 cubic meters of concrete, and use 90,000 metric tons of reinforced steel for the foundations alone.

   The massive scope of the site development sits in contrast to the micro scale of the manufacturing that will take place. A single piece of dust, invisible to a human eye, can damage a chip, so fabs need sophisticated equipment to filter air and regulate temperature and humidity. As the smallest vibration can cause equipment malfunction, special shock absorbers are built into the foundations. Even water presents a challenge, as the fabs require 41 million liters (16.5 olympic swimming pools) per day to clean wafers at various stages. Arizona is a drought-plagued state, so Intel has invested heavily in reclamation and filtration systems.

   Related, this detailed video on the chip manufacturing process fills in some of the details left out in piece.
A new Lord of the Rings series will debut in September, revealed with this epic title announcement video. In it, molten metal is poured into a wooden cast that ultimately forms the name of the show. Incredibly, no CGI was used to make the trailer. Artisans formed casts out of reclaimed wood and compressed sand, allowing for multiple takes. Metallurgists then poured molten aluminum and bronze into the cast while mixing in crazy materials like sparkler dust, argon, and liquid nitrogen – creating surprising effects that couldn't be designed digitally. The pours were filmed at 5000 frames per second so that cinematographers could capture details we can't perceive in real time. The staggering amount of creativity and care the team put in really shows.
Maintenance, Repair & Operations.
A Formula One pit crew helped the neonatal unit at the University Hospital in Wales save critical time during resuscitation emergencies.  After watching the racing team work, the nurses and doctors implemented a number of changes, including physically mapping out floor space to ensure standardized spacing in delivery theaters, reducing clutter on supply carts, and introducing video analysis to improve performance.

   Though surprising, this specific collaboration is not novel. There is a "pit crew" model of emergency medical care which apparently leads to better outcomes.

   Related: I recently tried out Wrench, a VR car repair simulator that imparts a different set of lessons. Its creators are right-to-repair enthusiasts who hope that the game might make the process of working on cars less intimidating. The level of detail is impressive - currently, players can work with engine, suspension, and brake systems.
Distribution & Logistics.
Amtrak and freight rail companies CSX and Norfolk Southern are having a major beef about restoring passenger service between Mobile, Alabama and New Orleans, a route which stopped after Hurricane Katrina. Per section 402b of the 1970 Rail Passenger Service Act that created Amtrak, the freight companies own and maintain the tracks, but Amtrak may "require a railroad to make immediately available tracks and other facilities." CSX and Norfolk Southern have so far blocked recent requests for two round trip passenger trains per day, citing the strains on the Gulf Coast rail system. Amtrak cried foul, going so far as to set up a twitch stream to show that the tracks are not particularly busy.
I love the idea of an equipment supply shock, which occurs when a large number of expensive or hard to access tools are made available to a new group, enabling innovation. Some credit the explosion of hip hop in the late 70s to a supply shock of DJ and music equipment following the looting of a large music store during a 1977 blackout.

   Creating a supply shock is also a viable philanthropic strategy. Apple famously did this in the early 80s by donating 10,000 computers to California schools. Steve Jobs referred to the effort as "one of the most incredible things I've ever done."
Inspection, Testing & Analysis.
A refreshingly honest post about the demise of Pebble, the first major smartwatch company. The founder reflects on how missed forecasts and a (related) failure to really understand what their customers valued about their devices contributed to an oversupply in inventory and major cash crunch.
On 2022-04-01, the complete digital record of the 1950 US Census was released to the public. Federal law does not allow detailed records like these to be released until 72 years after the survey takes place. While browsing the records for in rural Virginia, I learned that several members of my family worked as "chicken dressers," a job that entails beheading the bird, draining its blood, plucking its feathers, and preparing it for retail. It is a time capsule to a very different America.
Tangents.
The somewhat harrowing tale of how Toy Story 2 was deleted from Pixar computers on the road to becoming a hit movie. The hero of the tale was a technical director who happened to have a backup on her machine while she worked from home after having a baby.
I enjoyed scrolling through The Usborne Book of the Future. Published in 1979, it is a delightfully illustrated look at what the future might look like in the "year 2000 and beyond." A surprising number of the predictions are pretty accurate, like the living room of the future (pages 42 and 43). Unfortunately, we have yet to pull off a Lunar Olympics (page 53).
Over 25 years, Sehmus Erginoglu planted 11,000 trees to transform a waste site in Turkey into a forest.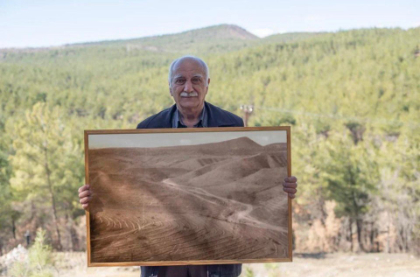 Thanks as always to The Prepared's Members for supporting The Prepared. Thanks also to Randy, Nick, and Hananya, for providing fantastic links.
You are awesome, James
p.s. - We care about inclusivity. Here's what we're doing about it.
---