Notes, 2021-07-12.
I experience manual labor mostly as nostalgia. Few things make me as wistful as absentmindedly organizing a workshop; the nervous anticipation of an upcoming project is like turning the corner to a street that I used to live on. Of course, describing the emotional experience of physical exertion is like describing your dreams - nobody else cares until the consequences spill out into the communal world. Maybe this is why it feels so good to exhaust yourself building something: the ache in your muscles validates the nostalgic ache that nobody else can truly understand.
-Spencer Wright
---
The most clicked link from last week's issue (~12% of opens) was an article on the deepest hand dug well in the world.
In our Reading group this week, we're starting Paper Trails: The US Post and the Making of the American West; the author will be joining us for a conversation on 2021-08-06. The book's companion website has a *ton* of interesting visualizations of how the USPS shaped history.
Planning & Strategy.
Making & Manufacturing.
An interesting piece from a couple months ago on how Ring, Amazon's internet-connected doorbell & surveillance company, has not meaningfully changed its industrial design since 2014. There are a lot of products that have maintained their ID while changing their manufacturing & engineering details, but consumer electronics hasn't cultivated long-lived aesthetics. Perhaps this is because innovations in consumer electronics have mostly revolved around media and communications - categories that humans get understandably attached to and which are already prone to stylistic evolution. But doorbells - and thermostats, and all manner of internet-connected exercise and audio equipment - are more architectural and infrastructural, and for better or worse people typically expect stability for those types of things.
Tsugite is an open source, voxel-based 3D design app for creating joints for wood frame structures. I played around with it for a few minutes and found it interesting/provocative, but TBH a sharp pencil and an even sharper chisel would probably be more fun :)
Maintenance, Repair & Operations.
The White House issued an executive order last week which, among other things, "encourages the FTC to issue rules against anti-competitive restrictions on using independent repair shops or doing DIY repairs of your own devices and equipment." Yeah!
A company called Infinited Fiber made a couple of splashy moves last week, signing a (rather vague) deal with Patagonia and raising money from Adidas and others. Infinited sells fabric and licenses fabric manufacturing technology. Their process starts with mixed post-consumer scrap textiles, which are shredded and treated with urea to extract cellulose from whatever cotton is in the feedstock. The result is a bunch of mixed fibers (polyester, elastane, etc) and liquified cellulose, which can then be converted into a fiber via wet spinning. Infinited, whose name I find baffling to pronounce, calls this fiber Infinna.

Cellulose occurs naturally not just in scrap t-shirts but also in cardboard, bamboo, wood pulp, and grass. People have been extracting cellulose from those sources for more than a century (rayon was invented in 1846 and it was first produced in the US in 1911), but the environmental legacy is mixed. Rayon production takes cellulosic feedstock and treats it with carbon disulfide (which is pretty nasty) to make cellulose xanthanate, whereas the Infinna process uses urea to make cellulose carbamate. Either way, the wet spinning process squirts the goopy liquified cellulose into an acid, whereupon it crystallizes into a fiber.

See also: This pretty good video explainer on viscose, rayon, and other semi-synthetic cellulosic fibers.
Distribution & Logistics.
Inspection, Testing & Analysis.
A pretty cool tool: Magnetic viewers, which let you see the magnetized patterns on, for instance, VHS tapes.
I believe I've linked to it previously, but there's something about Plateau-Rayleigh instability that I find totally fascinating. Plateau-Rayleigh describes how streams of liquid tend to break up, ending as discontinuous packets/droplets with reduced total surface area. It can be seen all around us: In the way water splatters haphazardly from a hose; in the way rain forms droplets instead of streams; in the inevitable mess that accumulates around a urinal. It's caused by the inevitable perturbations in streams of liquid: No liquid stream is perfectly laminar and smooth, and tiny ripples are often exaggerated over distance, and when the ripple's wavelength exceeds the stream's circumference the stream breaks up into droplets. It's an inevitability: liquids in free fall just want to atomize.
Tangents.
The greater fool theory states that the value of an asset should be based on how much you think you can sell it to someone else for in the future - as opposed to some idea about the asset's [scarequotes?] intrinsic value. "The person buying the overpriced asset later on, for a higher price, is deemed the greater fool."
A meditation on the decidedly mixed imagery of lithium ion batteries from production to destruction.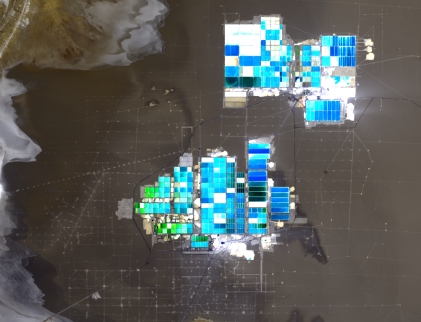 Thanks as always to The Prepared's Members for supporting The Prepared. Thanks also to the following readers for sending links: Robert, Richard, Dustin, Ryan, Noah, Shannon, Sean, Russ, Steven.
Love, Spencer.
p.s. - We should be better friends. Send me a note - coffee's on me :)
p.p.s. - We care about inclusivity. Here's what we're doing about it.
p.p.p.s. - We're always looking for interesting links. Send them here.
---