Notes, 2021-07-05.
As a younger person, many of my efforts were put towards building platonic ideals. Few things are as alluring as purity, and there's a particular brand of optimistic certainty that seems to precipitate out of youth. In my case it lasted for about a decade after college, a period in which I attempted to take my own ostensibly consistent values and, through some kind of startup alchemy, encapsulate them into a physical form.
I'm still enticed by these sentiments from time to time, but I find myself happier - and more effective - when I focus less on being more perfect and more on being more resilient. There is magic in running things close to their breaking point, and even perfectionists need crisis management skills from time to time. The result for me has been to focus on systems that work pretty well - and to keep enough energy in my emotional bank such that I can fix things when they eventually do go wrong.
-Spencer Wright
---
The most clicked link from last week's issue (~11% of opens) was the Wikipedia page for dingbat, a type of small SoCal apartment building. But judging by the replies I've received about it, our Thursday feature on Ise Jingu - the Shinto shrine that has been meticulously demolished and rebuilt every 20 years since 690 AD - is the one thing you should definitely click on from the past week at The Prepared.
Planning & Strategy.
From Mikell Taylor, a short Twitter thread on the (really quite small) role that "ML" and "AI" play in robotics engineering.
In learning theory, constructionism is the idea that learners build mental models through discovery, projects, and coaching. You may know it as "learning by making" or "learning by doing," though of course the underlying theory is more nuanced.
This week in the Members' Reading Group we're discussing Elon Musk's Neuralink paper (which is bound to be a complicated chat) and deciding on our next book to read; join us!
Making & Manufacturing.
Two rad tool projects that were built by Members of The Prepared and shared in our #projects channel on Slack:
From Kevin, a microcontroller search tool that lets you specify package, flash/RAM size, and peripherals.
From Michael, a guitar fretboard template generator that produces a SVG or DXF of your fretboard given scale length, fret count, and various inlay/formatting options.
The Wikipedia page for pasta processing, which is technical and specific and which contains surprisingly few instances of the definite article "the." It extensively references the 1996 reference book Pasta and Noodle Technology, which itself contains chapters on the continuous manufacturing process, textural measurement of cooked spaghetti, and processing technology of noodle products in Japan.
Maintenance, Repair & Operations.
NHTSA issued a standing order for all automakers who sell driver assist and automated driving systems to report all crashes that involve "a hospital-treated injury, a fatality, a vehicle tow-away, an air bag deployment, or a vulnerable road user such as a pedestrian or bicyclist."
A very nerdy podcast on the state of demand response, which helps utilities handle periods of high electricity demand. During the 2020 California blackouts, the California ISO's Flex Alert system (in which consumers are simply asked to use less electricity) resulted in a reduction of 4 GW - about 5% of California's generation capacity.
Distribution & Logistics.
On the Odd Lots podcast, an interview with FreightWaves' CEO about the trucking industry. I was particularly struck to learn that over 11,000 new trucking companies entered the industry in the last 30 days - mostly tiny owner-operators, but still it'll be a bloodbath when shipping rates eventually collapse. I happened to listen to this while waiting in line at the DMV, and just a few minutes after hearing that stat I struck up a conversation with someone who was completing their CDL and considering a move to New Jersey to be closer to the Bayonne container terminals. It was hard not to blurt out something about how there have been multiple boom/bust cycles since early 2020, or explain to him that his ~$100k in operating costs will still be there in years when he only brings in ~$80k in revenue.
The Woodingdean Well was dug by hand between 1858 and 1862 and reaches a depth of 1285 feet - deeper than the top floor on the Empire State Building is high. Its bottom was 850 ft below sea level.
The FAA regulates right of way in a framework that's exactly parallel to the one I proposed a few months ago for street traffic: just "stay away from  aircraft that look like they might have a hard time staying away from you." From § 91.113 Right-of-way rules:
(d) Converging. When aircraft of the same category are converging at approximately the same altitude (except head-on, or nearly so), the aircraft to the other's right has the right-of-way. If the aircraft are of different categories -
A balloon has the right-of-way over any other category of aircraft;
A glider has the right-of-way over an airship, powered parachute, weight-shift-control aircraft, airplane, or rotorcraft.
An airship has the right-of-way over a powered parachute, weight-shift-control aircraft, airplane, or rotorcraft. However, an aircraft towing or refueling other aircraft has the right-of-way over all other engine-driven aircraft.
Inspection, Testing & Analysis.
If you haven't watched it already, the SIGGRAPH 2021 trailer video is as fun as ever; I especially like the knit textile simulations. For the uninitiated, SIGGRAPH (and SIGGRAPH Asia) is the computer graphics industry's annual conference, and the technical paper videos presented there represent the frontier of research in simulation, visualization, and video synthesis. An older SIGGRAPH video that I loved: This set of simulations of bread, batter, and other foods being baked, fried, and torn up.
A 10 dB increase in ambient noise reduces worker productivity by 5%, but workers appear not to perceive the difference; they feel as if their effort is equal, but their output (a sewing task, compensated on a per-piece basis and performed in a factory setting) suffers. We should note that 10 dB represents a 10x increase in loudness due to the decibel's logarithmic scale, but the noise levels in this study were within OSHA limits and similar to what factory workers experience in the real world. Note also that noise cancelling headphones "don't significantly improve our ability to concentrate in office environments," though again workers claim the opposite.
From The Exploratorium (which is *such* a special place), a study on the design attributes which seem to encourage girls to engage with science exhibits (and did not negatively impact boys' engagement). Among other things, girls prefer exhibits which include familiar everyday objects, accommodate three or more people, and allow them to watch others before engaging themselves. Tangentially related: There's a column-mounted hold-down clamp on The Exploratorium's drill press, visible at around 0:20 in this video and in the background of the second photo here. I want it.
Tangents.
Founded in the early 1900s, the Bagel Bakers Local 338 was an all-Jewish trade union based in Manhattan's Lower East Side. In 1964, an LA based high school math teacher named Daniel Thompson - fresh off his 1950 patent for "Folding table, tennis table, or the like" - convinced Murray Lender, a New Haven based bagel maker, to lease one of his new Thompson Bagel Machines. It was wildly successful, allowing the bagel to graduate from obscure NYC delicacy to a fixture of grocery shelves across the country. Local 338, whose membership was limited to the sons of members and which conducted meetings in Yiddish into the 1950s, collapsed shortly thereafter.
In 1875, a fire broke out in a whiskey storehouse in Dublin. As the barrels burned, a flaming stream of whiskey poured from the storehouse and down the street and in the end nearly 5000 barrels were lost. But much of it was recovered: "It is stated that caps, porringers, and other vessels were in great requisition to scoop up the liquor as it flowed from the burning premises, and disgusting as it may seem, some fellows were observed to take off their boots and use them as drinking cups." Thirteen people died during the fire - every last one of them from alcohol poisoning.
A history of the urban control room.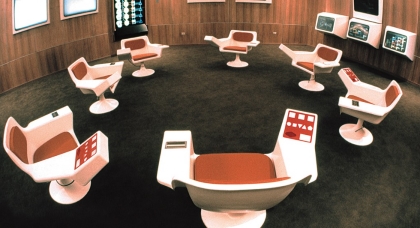 Thanks as always to The Prepared's Members for supporting The Prepared. Thanks also to the following readers for sending links: Richard, Michael, Kevin, Tse, Brian, Nick, Jack, Dylan, Anthony, Chris, Charlie.
Love, Spencer.
p.s. - We should be better friends. Send me a note - coffee's on me :)
p.p.s. - We care about inclusivity. Here's what we're doing about it.
p.p.p.s. - We're always looking for interesting links. Send them here.
---