Notes, 2021-06-07.
With their astronomical cost, each tiny part of any aerospace mission has to be carefully considered. It sounds obvious that you should care about the people using, or riding in, a product, but they can get sidelined. I love working on improving those relationships and advocating for the human side of aerospace - I want to #MakeSpaceForEveryone!
My adventures have taken me from space plants to mission control and recently into manufacturing. These insights, along with scrolling #SpaceTwitter, have converged here. 😊
---
The most clicked link from last week's issue (~11% of opens) was a blog post reverse engineering the source code of the BioNTech/Pfizer SARS-CoV-2 vaccine.
Planning & Strategy.
We're going to Venus! DAVINCI+ will bring back the first high-resolution images from the inferno-like world; VERITAS will create 3D reconstructions of planet topology, map infrared emissions, and carry the Deep Space Atomic Clock.
The 2021 Department of Defense budget includes a 2% uptick from 2020 and a line item for 85 F-35 Lightning II aircraft - the world's most expensive weapon system. The F-35's mission capable rate, or percentage of total time when the aircraft can fly and perform at least one mission, is 69 percent - well below the 80 percent benchmark set by the military.
Aerospace companies are making edgier moves. From Rocket Lab's CEO eating his hat to all of Elon's typical twitter antics, new aerospace startups are going against the grain. Hermeus, the hypersonic plane start-up, capitalized on the closing of Aerion, a supersonic plane company, by replying to breaking story tweets with a link to pre-order their planes. Cosma Schema's website hosts a tongue-in-cheek New Space logo generator.
Making & Manufacturing.
Maintenance, Repair & Operations.
Distribution & Logistics.
New factories are a hot topic in aerospace. York Space announced a "mega facility" for spacecraft production in Denver, Firefly Aerospace announced a 40,000 square foot factory for rockets and lunar landers in Cedar Park, and Hermeus announced a 110,000 square foot factory for hypersonic jets in Atlanta.
The James Webb Space Telescope launch date is expected to slip again. While launch delays have become a norm for the galaxy-hunting gold coated telescope, the excitement for future findings hasn't changed. Think about the impact that Hubble has made!
Inspection, Testing & Analysis.
Tangents.
Concise communication helps astronauts have the best arguments, and we could all take a page from their book.
You can buy an NFT of the controversial 1947 "alien autopsy" for the low price of only $1,000,000.
Pack accordingly! American Airlines and Southwest have banned alcohol on flights following some unruly passenger behavior. Switching to non-alcoholic spirits might cut down on drunken behavior but, surprisingly, not the overall cost.
A spot on Jupiter has turned into a more complex structure called a folded filamentary region.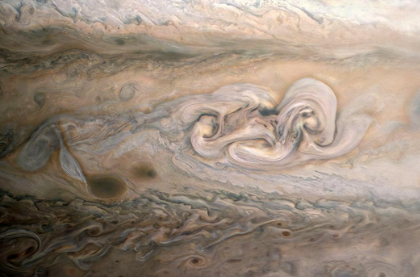 Thanks as always to The Prepared's paid subscribers for supporting The Prepared. Thanks also to Surjan who introduced me to The Prepared community.
Love, Payton
p.s. - We care about inclusivity. Here's what we're doing about it.
---