Notes, 2021-05-24.
For as long as I can recall, I've believed that the marginal cost of buying a nice tool is usually lower than the marginal cost of the time I would spend wrangling an inferior one. In the global context I suppose this is classist of me, but I've mostly worked within industries where labor was by far the largest cost in a project, and the tool distributors I had access to as I was starting my career were mostly independent and needed high margins in order to afford the expensive commercial real estate market I lived in.
As a result, it wasn't until I was older that I became aware of Harbor Freight and the world of cost-optimized power tools. I dabbled; I hated it. Harbor Freight represents an uncanny valley in my pantheon of utility: The stuff they sell is both specialized and generic, both highly engineered and haphazardly constructed. They're mass market, but their products are often niche.
To me a tool mostly distinguishes itself from an idle artifact by doing something. But recursivity is a hell of a drug, and once I realized that even tools can have things done to them I desired the option to fix, and adapt, and even destroy them at will; the world became tools all the way down, as it were. And even setting aside their durability, perhaps the thing that most offends me about Harbor Freight's tools is that they're so resistant to being worked on themselves.
-Spencer Wright
---
The most clicked link from last week's issue (~16% of opens) was some totally rad wooden chairs designed by third graders. In the Members' Slack last week, hot takes on how tool libraries devalue repair work and musings on the societal costs/benefits to buying a tube of epoxy so that you can glue an old, cherished ceramic mug together for a few more years of use. Also, our biggest and perhaps most rousing reading group meeting yet! We'll start discussing our next book (TBD - join us this week to submit your votes!) on 2021-06-04.
Planning & Strategy.
Making & Manufacturing.
A few of my fave small scale engineering/design/making channels right now:
@capefalconbuilds, who inexplicably makes me want to build a skin-on-frame canoe
@dylaniwakuni, who is working on a pretty impressive restoration and relocation of a traditional post-and-beam Japanese home; his YouTube channel is also pretty awesome
Wintergatan, a YouTube channel of a guy making an intensely elaborate musical instrument that's some sort of cross between a music box, a Babbage difference engine, and a pinball machine




Maintenance, Repair & Operations.
Distribution & Logistics.
"The China National Highway 110 traffic jam was a recurring massive traffic jam that began to form on August 13, 2010, in Hebei and Inner Mongolia...Many drivers were able to move their vehicles only 1 km (0.6 mi) per day, and some drivers reported being stuck in the traffic jam for five days."
Pedal assist e-bikes are quite effective at getting people to bike dramatically farther and more often. "The people who bought e-bikes increased their bicycle use from 2.1 kilometers (1.3 miles) to 9.2 kilometers (5.7 miles) on average per day; a 340% increase. The e-bike's share of all their transportation increased dramatically too; from 17% to 49%, where they e-biked instead of walking, taking public transit, and driving."
Inspection, Testing & Analysis.
Tangents.
Lead oxide is bright yellow, and some turmeric manufacturers use it to enhance their product's appearance 😱
Jevons Paradox occurs when some resource's usage is made more efficient via technology or government intervention - and then public consumption habits adapt such that total resource usage remains constant. It is similar to risk compensation, in which people adjust their behavior relative to perceived risk such that the overall injury rate remains constant.
Some good physics quiz questions, many of which remain unanswered since the early 2000s. A curious one: "A drop of water landing on a 150C hot plate evaporates within a few seconds. If the temperature of the plate is raised to about 200C the drop survives for about a minute. At even higher temperatures the survival time decreases with increasing temperature. Provide a semi-quantitative explanation of this phenomenon."
A good technical photo essay on the South Pole's fuel supply.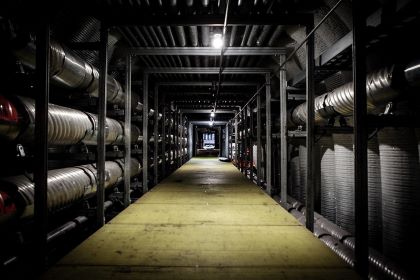 Thanks as always to The Prepared's Members for supporting The Prepared. Thanks also to the following readers for sending links: Peter, Todd, Nick, Robert, David, Michael, Nick, Eric, Josh, Scotty, Richard, Dan, Charlie.
Love, Spencer.
p.s. - We should be better friends. Send me a note - coffee's on me :)
p.p.s. - We care about inclusivity. Here's what we're doing about it.
p.p.p.s. - We're always looking for interesting links. Send them here.
---