Notes, 2021-04-12.
I've always been a huge fan of meet-cutes. It's rare and incredibly special to find someone or something you care deeply about, and the story of how someone comes to care is just as important as who (or what) they care about. The world is full of people and things that are worth being totally absorbed by, but we only ever get captured by a few of them. And look, you might be wondering what meet-cutes have to do with manufacturing -- but to me, it's more often than not that something fascinating in manufacturing has been right in front of me the entire time. Just like that moment when Andrew realized he was in love with Margaret, his boss who he hated for years before falling for her wonderful qualities after pretending to be her fiance when she was about to get kicked out of the country for overstaying her visa.
Anyway: The past seven weeks I stepped out of the structural engineering world I've become comfortable with and into a fluids systems world. My previous relationship with fluid systems was one mostly of ignorance; I recently left the commercial aviation industry, and because of the way it's  structured I just never thought about fluids that much. But something about being on a launch pad and tinkering with valves, filters, and tubes has really shifted my perspective. Since I've returned, these components are something I notice everywhere. It's been serendipitous, and exciting, and has grabbed me in a way that, I hope, something below grabs you as well.
---
The most clicked link from last week's issue (~34% of opens!) was an intense and very web 1.0 website selling very expensive watercolor palette trays with very long lead times.
Planning & Strategy.
Recently, I've spent  of time reading, writing, and talking about work instructions. And in those conversations, it usually isn't more than a few minutes before someone brings up idiot-proofing, a term, I think, that removes all nuance with how people perform the work they do. Surjan Singh wrote an absolutely wonderful newsletter issue that touched on this nuance and the balancing act of craftsmanship & modern manufacturing. "And when manufacturing is controlled by processes, we don't allow for new craftsmen to develop. It's no different to the development of skills in engineers in large, bureaucratic companies compared to small, 'startup'y companies. By making processes idiot-proof, we also make them genius-proof."
While I see the term idiot-proofing as a microaggression that minimizes the amount of skill required to perform tasks, I still think clear instructions and processes are vital. To further that point, I'll give you not one but *two* examples of how amazing instructions quite literally save lives:
Making & Manufacturing.
Maintenance, Repair & Operations.
Distribution & Logistics.
Inspection, Testing & Analysis.
Tangents.
Materiom hosts and maintains an open source database of recipes on how to make various things using local biomass to promote sustainable product design.
Reading Folding Techniques for Designers has got me back to attempting to fold various kinds of origami. A tool I've been using to explore patterns is Origami Simulator, where you can upload folding pattern SVGs and visualize the patterns fully folded. I also love this neat list of resources all related to origami and the folding structures world.
The Wärtsilä RT-flex96C, a two stroke turbocharged diesel engine for large container ships, is the largest reciprocating engine in the world.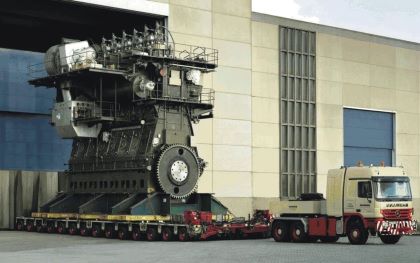 Thanks as always to The Prepared's paid subscribers for supporting The Prepared. Thanks also to my super awesome sibling Sasha for proof-reading, my former colleague Jason for encouraging me to be aggressively curious, and to you, the reader, for spending some of your Monday with me.
Love, Amreeta
p.s. - If you like meet cutes, one of my favorite podcasts, Partners by Hrishikesh Hirway, does a fantastic job covering super wholesome meet cutes between collaborators of the likes of an author & illustrator, members of band, and best friends.
p.p.s. - We care about inclusivity. Here's what we're doing about it.
---