Notes, 2020-08-31.
Top of the Monday to you.
Chuma here. Unequal parts engineer, researcher, and writer.
I think about the field of international development a lot. While it is necessary and encourages innovation in parts of the world that need it, it also by its nature takes agency away from the people it means to uplift.
It strikes me also that development work contains a built-in negative feedback loop: As the world becomes more developed, this would presumably mean a decreased need for people working in development. But how does anyone design an industry that, if effective, would make themselves redundant?
---
The most clicked link from last week's issue (~14% of opens) was photos and a partial explainer on slotted hoc.
Planning & Strategy.
My copy hasn't arrived yet, but Sara Hendren's new book What Can A Body Do? looks really good. It's a take on the built environment from the perspective of humans with disability, questioning what assistive technology really means.
Cote D'Ivoire and Ghana produce about 60% of the world's cocoa but the farmers who grow and harvest the crops do not earn much of a livable income. Last year, both countries worked together to implement a Living Income Differential: a standard amount per ton of cocoa sold, paid directly to the farmers. A new step in that relationship was realized last week, when both countries set up a joint body to regulate pricing, coordinate research and reduce child labour in their cocoa industries.
Global pesticide use has increased by 25% (now at 4 million tons per year) in the last 20 years, an era in which the EU has developed tighter regulations on their use. But these regulations are largely absent in countries like Kenya, where a third of the registered active pesticide ingredients used in the country are not approved for use in Europe. In no surprise to most Africans, many producers of these pesticides are European, and claim that pesticides are indispensable to ending world hunger.
Making & Manufacturing.
I'm quite excited about LamiFold, a workflow (and software tool) for fabricating objects with integrated mechanisms using a laser cutter. The fabrication process of layering, gluing and cutting have an in situ feel which makes it seem more like an art project than the exciting engineering it is. Then again, isn't that the aim of true engineering?
Handyfuge-LAMP is a low-cost and electricity-free centrifuge that can be used to detect COVID-19 in saliva, designed for resource limited regions. That's no mean feat, but the idea came from a $6 toy that Manu Prakash bought for (and then nicked from) his kids.
From How Shits Made: How engineered wood is produced.
Maintenance, Repair & Operations.
Distribution & Logistics.
For communities that live along the Canada-US border, the pandemic has been quite difficult to access essential services due to movement restrictions. In Port Robert, WA, residents need to cross the Canadian border twice by car to see a dentist, go to the vet or pharmacy.
An overview of what freight capacity and rates may look like this fall, as holiday shipping increases but (presumably) the pandemic continues on.
Inspection, Testing & Analysis.
Researchers at CSIRO, an Australian federal agency, are developing genetically modified colored cotton. While the tissues are still in the lab, and work is ongoing to grow it into plants, this represents a huge leap for the textile industry by reducing the need for dyeing of fabrics - a large cause of water pollution.
A quarter of the tap water in Windhoek, Namibia's capital city, is recycled wastewater. Their system is built around repeat rounds of water treatment and independent testing in labs every four hours.
The US has two units for the foot: the US survey foot and the *slightly* shorter (over 10,000 feet, the difference is about a quarter inch) international foot. Some states have regulations to use one of the two, others allow both; either way, the result is chaotic. The good news is, there's a movement among surveyors to finally retire the US survey foot.
Tangents.
In a compelling argument, Lily Irani posits that design thinking is a brand of expertise within racialized understandings of global labour. She argues that American corporations employ it as a strategy to emphasize creativity over manufacturing know-how, and began doing so largely as a reaction to the rise of global design competence particularly in Asia in the 2000s.
László Bíró patented his ballpoint pen in 1938, but in the 50 years leading up to that many other designs were invented - all with limited success. What Bíró did right was experiment with thicker, quick-drying inks, which didn't smear like fountain ink and were much less likely to clog. As a result they required more force to write with, changing the mechanics of writing and killing cursive along with it.
IKEA released their archive of catalogs dating from 1951.
Tea leaves being prepared for processing in a Rwandan factory.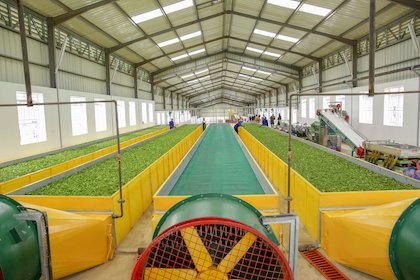 Thanks as always to The Prepared's paid subscribers for supporting The Prepared. Thanks also to Daniel, Amreeta, and Mark for sending in links, and Nasir Jones for his new LP which I had on repeat while writing this.
Love, Chuma
p.s. - I'm always available to chat, I'll even bring Timbits.
p.p.s. - Whenever possible, we work to encourage inclusivity. Here's how.
---