Notes, 2021-01-04.
Happy New Year, all - and congrats for making it through the last one.
---
The most clicked link from last week's issue (~15% of opens) was on the tax issues that arose from MIT's majority ownership of the Bose Corporation.
Planning & Strategy.
Making & Manufacturing.
Maintenance, Repair & Operations.
A good overview of static control foams, and the differences between static dissipative, conductive, and anti-static features.
A farmer in New Jersey built a hacky (and apparently legal) "hail cannon," which uses acetylene and oxygen to send shock waves 30,000 feet into the air "to break up cloud formations and scare away birds that nibble his grapes."
Distribution & Logistics.
I spent a lot of time last year pining for a mayor like Paris's Anne Hidalgo, and so this 2018 article about the catastrophic rollout of Vélib upgrades was a bit dismaying. The incident revolved around the electrification of the Vélib fleet, and occurred during the transition from its initial operator, the advertising mega-corporation JCDecaux, to Smovengo, a consortium whose members make up some of the largest bikeshare operators in the world.
TeleGeography's subsea cable map, which I've lusted after in print form but which also exists as a decent website.
Inspection, Testing & Analysis.
Formula 1 is considering a ban on wind tunnels, a move that would be effective in 2030. From the standpoint of the sport, this seems totally rational to me: Games are all about arbitrary limitations, and F1 in particular makes its mark by being pedantic about all sorts of odd things (imagine if the NBA regulated the amount of Gatorade that a player could drink during a game, or mandated a single supplier for all sneakers worn on the court). But this change is also supposed to address sustainability (the idea being that wind tunnels consume more energy than computers running CFD; This strikes me as mostly marketing, given that each F1 race involves the burning of ~2200 kg of fuel, and the fact that per F1 itself, an even larger source of emissions is shipping race cars to the track), and there's also chatter about how a CFD-forward design paradigm "might spice things up a bit," presumably by leveling the financial playing field and allowing poorer teams to compete better. I'd tend to be skeptical of this: CFD software itself is not inexpensive, and hiring engineers who really understand it is a significant task unto itself, and something makes me think that wind tunnels might still be easier to utilize on a per-hour basis than fluid dynamics simulations are. Regardless, I appreciate F1's willingness to experiment - and if this ends up pushing change in the engineering software industry, that'll certainly be interesting.
A video of the NY MTA's Track Geometry Car, which inspects the subway system's rails for wear and damage.
Tangents.
A pretty fantastic twitter thread of videos of moss being rehydrated.
The Vert-A-Pac, a system designed to double the number of Chevy Vegas that could be shipped per rail car.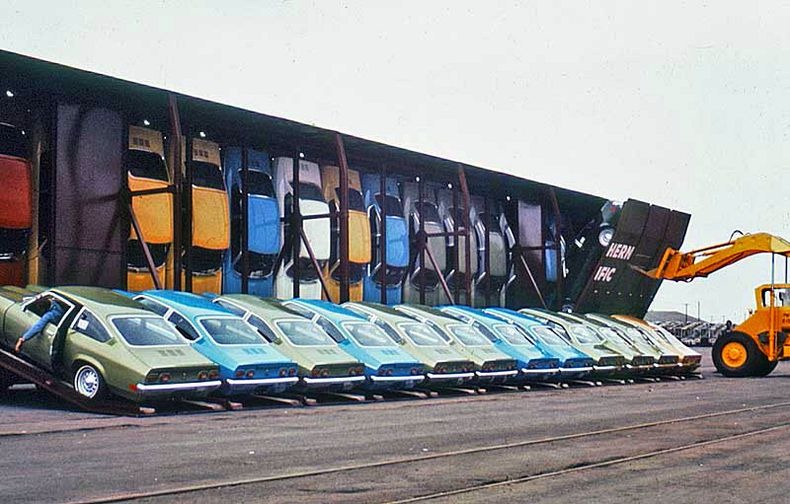 Thanks as always to The Prepared's Members for supporting The Prepared. Thanks also to the following readers for sending links: Andy, Amreeta, Alex, Charles, David, James, Deb, Russ, Xavier, Mat, Skyler, Bradley, Michael, Reilly.
Love, Spencer.
p.s. - We should be better friends. Send me a note - coffee's on me :)
p.p.s. - We care about inclusivity. Here's what we're doing about it.
p.p.p.s. - We're always looking for interesting links. Send them here.
---