Notes, 2020-09-07.
Earlier this year, a temporary wastewater pipe sat atop a usually-busy street near where Anna lives in Wellington, New Zealand, due to a rupture in the main pipe which resulted in an estimated five million liters (roughly two olympic swimmings pools) of wastewater spewing into the local harbour. The "poo tube" was above ground for over two months, cutting off traffic along one of Wellington's key thoroughfares while a permanent replacement pipe was installed. Goofy and annoying as it was, the tube provided a useful and very visible reminder of the waste that flows around cities every day, and the potentially catastrophic consequences of failing to maintain vital infrastructure.
We're already menders and repairers, but with ongoing disruptions to travel and supply chains, we've been doubling down. Kelly (who lives a continent away, in San Francisco) is learning to draft clothing patterns, and Anna is brushing up on the basics of home appliance repair. But as always, personal actions are a drop in the ocean compared with the institutional and infrastructural investments needed to maintain, repair, and heal our systems at scale.
-Kelly Pendergrast & Anna Pendergrast
---
The most clicked link from last week's issue (~12% of opens) was a workflow (and software tool) for fabricating objects with integrated mechanisms using a laser cutter. Chatter this week on the paid subscriber chat includes leading causes of death of children (spoiler: they're all cars), hundreds of spoof AirPods, and all the reasons why you *shouldn't* 3D print food.
Planning & Strategy.
Engineering & Design.
Making & Manufacturing.
Maintenance, Repair & Operations.
Distribution & Logistics.
Tangents.
This incredibly cool "wristlet" from the 1920s held tiny map scrolls that helped travelers navigate popular routes across the UK.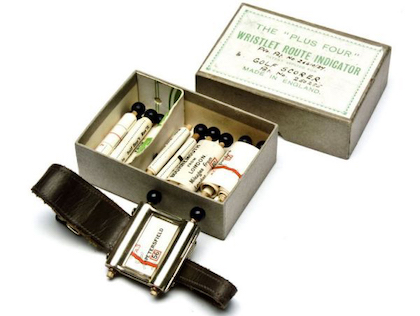 Thanks as always to The Prepared's paid subscribers for supporting The Prepared. Thanks also to Michelle and Melissa for getting us up-to-date on New Zealand manufacturing.
p.s. - We're always keen to meet new folks. Send us a message and let's chat bad infrastructure or weird shoes.
p.p.s. - Whenever possible, we work to encourage inclusivity. Here's how.
---