Notes, 2019-04-01.
The Prepared's 2019-Q1 report goes out this week to sponsors and paid subscribers. If you want a peek at what's going on behind the scenes, holler :)

The most clicked link in last week's issue (~15% of opens) was NASA's fastener design manual. On The Prepared's Slack (paid subscribers only!), JonPaul points out that this manual includes an excellent debunking of the theory behind helical split lock washers.
---
Planning & Strategy.
Making & Manufacturing.
Two (one, two) excellent project recaps detailing the benefits and construction of epoxy granite milling machine frames.
Maintenance, Repair & Operations.
An "internal Apple presentation [on 3rd party repair] undercuts many of the arguments that electronics industry lobbyists have made, namely ones that note that repair is too difficult for any 'unauthorized' people to do or that argue the security of products could be undermined by giving diagnostic tools to independent companies. Apple executives have in the past argued that iPhones are too 'complex' for the company to open its repair supply chain. The presentation, however, notes that people outside of Apple are perfectly capable of doing good repair work."
A US District Court judge ruled that the MTA violated the ADA by not installing elevators during the course of a $27 MM renovation of a subway station in the Bronx. ADA compliance is an endemic problem in NYC, and the ruling in this case seems eminently reasonable. But there are a *lot* of small station repairs that the MTA *should* be addressing, and I can't help but worry that tacking millions of dollars of elevator installations onto basic upgrades will prove untenable. Remember (from 2018-05-28), also, that the MTA has historically had a hard time filling open elevator maintenance positions.
Sacramento will begin charging JUMP/Uber $104 per year per device "for city staff to monitor parking."
Distribution & Logistics.
The shipping container responsible for leaking Garfield phones (literally, phones modeled after the cartoon character Garfield) onto the cost of Brittany for the past 35 years was found.
"Mr. ZIP, informally 'Zippy', is a cartoon character used in the 1960s by the United States Post Office Department, and later by its successor, the United States Postal Service, to encourage the general public to include the ZIP Code in all mailings."
Inspection, Testing & Analysis.
Tangents.
The Metcalf sniper attack was a 2013 incident in San Jose, CA in which an apparently sophisticated team of gunmen opened fire on the Metcalf Transmission Substation, causing more than $15 MM in damage but hurting nobody.
---
Bird migrations visualized from eBird's crowdsourced data.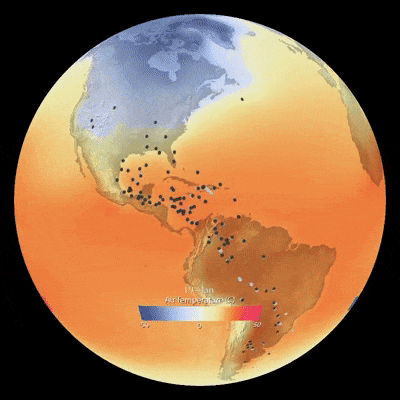 ---
Thanks as always to our recurring donors for supporting The Prepared. Thanks also to the following readers for sending links: Dan, Mark, Reilly, Skyler, Daniel, Ezra, Alexander, Adam, Michal, Jonathan.

Love, Spencer.

p.s. - We should be better friends. Send me a note - coffee's on me :)
p.p.s. - Whenever possible, we work to encourage inclusivity. Here's how.