Notes, 2022-09-19.
Over the past year, New Zealand has had a significant shortage of drywall, dubbed the "Gib crisis" (after the brand which holds 95% market share across the country). Buildings have sat unfinished, construction businesses have gone under and the government has even established a task force to look at short-term supply and regulatory issues. The situation has softened a bit recently, as alternate brands have been imported to help cover the shortfall, the construction industry is slowing, and regulatory changes have allowed four alternate products to be used in place of Gib.
This shortage has had flow-on effects for Anna, who was planning to line and insulate her cinder block basement earlier this year. With Gib in short supply, her builder suggested plywood as an alternative. Its qualities as a building material — a solid board product with easy install — meant it would do the trick practically. The result is different than originally imagined, and far more interesting — the plywood draws attention to itself in a way that drywall wouldn't, lending an aura of warm woodiness and a slight throwback 70s vibe, appropriate for a basement. And as the years go by, perhaps future visitors or owners will be able to look at the ply walls and go "ah, remember the great Gib shortage of 2022?".
---
The most clicked link from last week's issue (~5% of opens) was a piece about economies of scale (or lack thereof) in the construction industry. This week in the Members' Slack, we've been talking about panelized-house construction and finding the best incorporation structure for a solo consulting business.
Planning & Strategy.
Following the death of Queen Elizabeth II, a series of very specific and highly orchestrated events unfolded in the lead-up to her state funeral. The first steps of the plan were set in motion with public servants conveying the code phrase "London Bridge is down" to the prime minister over a secure telephone line. Officials then had their work cut out for them: the UK Foreign Office had to organize the arrival of up to 500 heads of state and dignitaries, and managing the miles-long queue of people waiting up see the Queen lying in state at Westminster Abbey became a logistical conundrum in itself, requiring 1000 volunteers and 8 separate aid stations.
Industrial parks, particularly in Europe and Asia, are increasingly adopting circular economy approaches, enabling companies to make use of each others' waste products, surplus energy, and other by-products through contract-based agreements — at least 245 of these "eco-industrial parks" have been established since 2001. The Symbiosis in Denmark is an oft-cited example, and this report details some specifics of how this "industrial symbiosis" works. The Asnaes combined heat and power station, for example, provides inputs for multiple other businesses: its process steam is used by an oil refinery and two biotechnology companies, ash is used by construction and cement companies, gypsum from its sulfur scrubbers is made into plasterboard, its cooling water is used in aquaculture, and its lime is used as farming fertilizer. Over the past five years, the Symbiosis project has prevented the use of 4 million cubic meters of groundwater, cut CO2 emissions by over half a million tonnes, and recycled 62,000 tonnes of residual materials.
Making & Manufacturing.
Maintenance, Repair & Operations.
Many of the trees cut down in urban areas due to damage, disease or development end up as mulch or firewood, or even sent to landfill. Initiatives like Street Tree Revival and Just Be Woodsy partner with cities and arborists to turn felled trees – especially hardwood species – into "forest free" lumber. For example, the Urban Wood line from Taylors Guitars is made from shamel ash from trees removed from municipalities throughout California and Arizona. However, milling urban wood is not without its challenges — the logs often have nails, staples, or even golf balls embedded in them, which can damage saw blades and slow production.
Distribution & Logistics.
In Afghanistan's rural north, fresh grapes are preserved for up to five months using a method called kangina, in which a mud-straw mixture is hand-shaped into containers to encase up to a pound of grapes, preserving them for later sale. Buyers then purchase what appears to be a loaf-sized lump of clay, which the vendor cracks open with a few strategic whacks to reveal the grapes inside. From a food science perspective, this is an example of passive controlled-atmosphere storage, with the slow gas diffusion through the clay envelope supplying enough oxygen to keep the grapes alive, while the high CO2 concentration inside the package inhibits their metabolism and suppresses fungal growth.
Inspection, Testing & Analysis.
Outfitting trees with accelerometers helps researchers better understand how water flows through a forest ecosystem. The sensors measure the unique sway patterns that indicate how burdened the canopy is with snow, or how hydrated (and therefore how rigid) the trees are. Remotely monitoring tree hydration could provide advance warnings about the arrival of invasive boring insects like the emerald ash borer which desiccates trees, and provide insight into evolving drought conditions associated with climate change.
When NASA's Parker Solar Probe became the first spacecraft to touch the sun (well, to fly through the Sun's upper atmosphere, called the corona), it passed through a feature known as a pseudostreamer. ​​These massive structures rise like ribbons above the Sun's surface and are visible from Earth during solar eclipses — the video footage is pretty trippy.
Tangents.
Marginalia is an independent search engine that focuses on non-commercial content and surfaces sites from obscure corners of the internet. Search results are provided in a grid of strange snippets, linked to a rich array of fan websites last updated years ago and not-dead-yet obscurist blogs.
We were slightly alarmed to find out that some jumping insects have naturally occurring "gears" — the first observation of mechanical gearing in a biological structure.
A 3D model of Tokyo's underground metro system.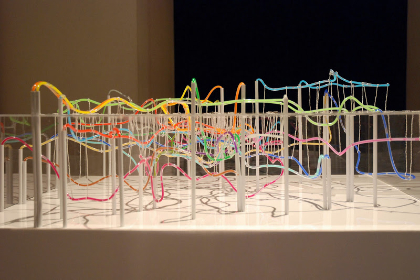 Thanks as always to The Prepared's Members for supporting The Prepared. Thanks also to Brian, Katy, Russ, and Jacob for the links and woodshop lore.
p.s. - We have a book out this week about tech and equity in New Zealand.
p.p.s. - We care about inclusivity. Here's what we're doing about it.
---