Notes, 2022-08-15.
I'm disappointed that even though so many people care about reducing carbon emissions, fear, uncertainty, and doubt around nuclear power plants have prevented them from becoming more widespread. The US has closed more nuclear power plants than we've opened this century – though luckily upgrades of existing plants have allowed power output to stay the same. It reminds me of how the public perceives genetically modified foods, where concerns about corporate control and unnatural-ness have turned public opinion against a technology whose purpose, as exemplified by golden rice, is to safely produce healthier and more resource-efficient crops. But public perception hasn't stopped GMO's: while they're very hard to plant in the European Union, most items in American grocery stores contain at least one genetically modified ingredient. Maybe it's not too late for nuclear power to make a similar turnaround.
---
The most clicked link from last week's issue (~4% of opens) was a video about the craftsmanship and practicality of Shaker built-in cabinets. In the Members' Slack, we've been talking about bioaccumulation and backyard gardening - here's your reminder to get your soil tested!
Planning & Strategy.
Making & Manufacturing.
In 2012, Scott Weiner, then a San Francisco City Supervisor, sponsored a bill that reduced the minimum square footage of a living space from 290 to the state minimum, which is 150. A developer immediately jumped at the opportunity, contracting with a company called Zeta to build a 160 unit prefab apartment building, which the city ended up purchasing for $86.5M to use as permanent supportive housing for homeless people. Zeta went bust, but its descendant, Factory OS, has contracts to use similar methods to build more affordable housing. This video shows one of their apartment units being installed in Vallejo.
I wish there were more high speed trains in the USA, but as this video explains, private land rights, environmental reviews, and lobbying make them extremely difficult to build. Meanwhile Toronto has some pretty dope subway extensions and light rail projects that are completing on reasonable timelines, with the Eglinton Crosstown line projected to be done this year, and the Finch West line projected to be done next year.
"About two-thirds of the aluminum that's ever been made is still in existence." The total amount of gold we've mined "would fit in a cube that is 23 meters wide on every side," and has a higher recycling rate than aluminum, though an estimated 4.5B worth of platinum, gold, and silver ingots have been lost in shipwrecks.
Maintenance, Repair & Operations.
There's a community of maybe a thousand active Wikipedia editors with tons of edits each, but as Aaron Swartz wrote in 2006, most of the text written on Wikipedia is contributed by subject matter experts who only have a few edits. Wikipedia has been slow to build on this fact, though; its Visual Editor, which allows people to make changes without having to learn wiki markup, is still in beta. The next evolution of Wikipedia I'd like to see would have tooling for collaborative writing and editing. In my experience, it's much harder to improve an existing article than it is to write a new one, due to both technical barriers and gatekeeping.
I work on cloud systems for my day job, and a few months ago we had a major infrastructure outage – the first I'd seen with all responders working remotely. It didn't go as well as previous outages we'd experienced, and it highlighted to me how parity between remote and in-person problem solving requires high-quality incident management. It's hard for engineers to coordinate when they're not in the same room, but the Apollo 13 mission, which was aborted when an oxygen tank exploded, is an excellent historical example of remote incident management. The astronauts were able to get back home safely after Mission Control figured out a way to use lithium hydroxide canisters to reduce growing CO2 levels in the spacecraft, walking the astronauts through the implementation step by step. I especially like how personnel resources were managed as carefully as equipment, like making sure the astronauts were getting sleep.
Distribution & Logistics.
Over a million New Yorkers were still not connected to broadband in 2019, and the average monthly internet bill in the USA is nearly double that of France, Germany, or South Korea. This explainer from Vox blames monopolies. In Toronto, some monopoly effects are reduced by allowing last-mile networking infrastructure to be leased out to other companies, with requirements for response time so that operators can sort out technical issues with infrastructure owners even though they are in competition with one another.
It seems that reduced demand for shipped goods is reducing shipping prices sooner than any kind of policy could. Looks like high inflation (partially from high shipping prices) has reduced consumer spending, thereby reducing shipping volume. Still, it would be great if regulations could increase availability and reduce volatility in shipping price and delivery times.
Inspection, Testing & Analysis.
California's Housing Elements law requires counties to have a plan to allow a certain number of housing units for different levels of income each year. YIMBY Law has a tool allowing Californians to look up how their city is doing and coordinate with other locals to report if the city is illegally denying housing. They recently won a lawsuit in Los Angeles, and have more in the works.
People are slightly less likely to have a third child in states where kids are required to ride in car seats longer. Anyone who's tried to put three car seats in a 5-seat car can guess why.
A very detailed investigation into the 3D printed titanium bike handlebar that snapped off during the Tokyo 2020 Olympics. The main cause was "inadequate specification," where the base bar was exposed to forces 1.5x what it was designed for. Check page 77 for a photo of the cool lattice structure inside the broken part.
Tangents.
Gold deposits are formed during underground seismic activity, when mineral-rich water is forced into cavities in bedrock at extremely high pressure. Once the water hits a cavity, its pressure drops dramatically and it vaporizes – leaving any minerals (including gold) behind.
My partner and I recently divided up our household tasks using the Fair Play card game. This system assigns tasks with the owner responsible for the conception, planning, and execution of the task, and we've found it to be really helpful for distributing the family mental load.
American cities tend to have reliable (every 30 mins) bus routes coming out of the city center, while Toronto has bus routes connecting all of its suburbs.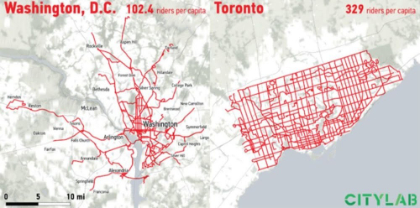 Thanks as always to The Prepared's Members for supporting The Prepared. Thanks also to Brian, Emeline, Xavier, Duann, and Nick for inspiration and links.
Love, Ruth
p.s. - Tweet at me if you are a fellow nerd about large-scale movement building à la The Rise of the Conservative Legal Movement
p.p.s. - We care about inclusivity. Here's what we're doing about it.
---