Notes, 2022-05-23.
In Canada, we often joke that there are only two seasons: winter, and construction. No city lives up to this reputation like Montreal. As soon as the snow melts and the tens of thousands of potholes are revealed, the city is bisected by nearly 100,000 high-vis cones. And while the winter months exemplify incredible coordination, as the city moves millions of cubic meters of snow off of the streets, construction season trends in the opposite direction - infrastructural chaos. Streets are often closed off long before any work begins, and frustrated drivers take their chances crossing barriers, risking getting stuck once work actually begins.
I know, everyone complains about construction in their city, but Montreal is in a whole different league. Part of the problem stems from underinvestment - a 2016 report found that even if the city tripled its budget for roadworks, planned maintenance wouldn't be complete until 2040. Decades of corruption have also exasperated the problem - a 2015 provincial inquiry found rampant bid-rigging and ties to organized crime, leading to the resignation of Montreal's mayor.
With only a few months of summer, residents accept living alongside the chaos, and the orange construction cone has become an unofficial Montreal mascot. We even have a board game, Construction and Corruption, where keeping your construction site open (and continuing to get paid) is a core mechanic.
---
The most clicked link from last week's issue (~5% of opens) was an essay on the incredible history of Tokyo's commuter rail. You might say The Prepared Members are eccentric, as in excited to learn about eccentric bottom brackets in extreme detail. Where else would a discussion about the fry attachment rate lead to processing french fries with supercritical CO2? If you want to join in on the technical minutiae, both practical and impractical, join us!
Planning & Strategy.
I am 100% behind this case for a dumb car - or taking the flashy computer screens and automation out of cars! Not only are displays cluttered and distracting, but software inevitably has security issues – a pretty terrifying proposition when the device running that software is hurtling you along at high speeds.
Making & Manufacturing.
Every time I hear about a new Dyson device, my opinion follows a familiar trajectory. I start with, "Dyson has invented a [common household appliance] that costs [hundreds and hundreds of dollars] and does [something gimmicky]? That's ridiculous!" But eventually, I shift to, "Dyson's [gimmicky expensive device] actually has some fascinating engineering - I guess I get it."

Cue the Dyson Airwrap. Dyson has invented a hair curler that costs $550 and sucks up hair automatically. It is, admittedly, ridiculous, but it's so cool I can't hate it. The device uses the Coanda effect to carefully direct air vortices that grab a lock of hair and coil it around the barrel without any user manipulation. This teardown also shows that the device has incredible build quality. Despite the jaw-dropping price tag, retailers can't keep it in stock.
Filming a timelapse of an FDM print always looks really cool - the object seems to appear out of the ether - and this YouTuber upped the ante by adding in flipbook animations. His tutorial shows how to arrange and extrude vector images to make an interior volume that will be visible while printing, and animates when a time lapse of the print is replayed.
Maintenance, Repair & Operations.
The Disconnect is a podcast series that looks back at the decisions that keep Texas' electricity generation at the edge of functionality, and outlines how they contributed to the 2021 blackout caused by severe winter storms. Texas' grid is isolated from the rest of the US, a result of a political desire to sidestep federal oversight, and the state later deregulated retail energy pricing; the consequences, especially in severe weather, have been fairly hostile to citizen's wallets and wellbeing. Thankfully, customers who were billed upwards of $9,000 per megawatt-hour last year eventually had their fees waived.
Distribution & Logistics.
The Generalist's coverage of Flexport gives a nice window into the history and operations of the company. Incumbent freight forwarders have been slow to adopt modern software, so Flexport competes by digitizing trade documents, using data to model arrival times, and offering APIs to clients. I found some of the claims in the piece unlikely - a product lead is quoted as saying their platform will bring more business to the port of Rotterdam, which is not exactly a small upstart port in need of a boost – but if you want an overview of the freight forwarding firm that always makes the news, it's a good profile.
In 2022-02, an Abbott baby formula plant was shut down and products recalled following bacterial contamination that killed two infants, leading to a shortage in formula across the US. The pause in production has revealed just how messed up the formula market is, thanks largely to policy decisions that determine state purchasing.

The baby formula market is a state-by-state near-monopoly, because the Special Supplemental Nutrition Program for Women, Infants, and Children (WIC), a program that covers the cost of essential items including formula for low-income families, opens bids for contracts every 4 years and then chooses one vendor for each state. This buying power distorts supply statewide - 50% of families receive WIC benefits (and are constrained to purchasing WIC subsidized brands), so retailers are reluctant to stock other products that don't have guaranteed purchasers. Abbott is the WIC contractor for "34 states, seven Indian tribal organizations, four territories and Washington, D.C.," and with effective monopolies, all of these places now have acute baby formula shortages.

These shortages are truly awful: Infant formula is a critical part of modern childcare, and as this piece details, Abbott's plant closures have forced parents to some pretty extreme measures. But this is some hope: Because distribution is lumpy, supplies could be redistributed nationwide, and the USDA is calling on state leaders to allow flexibility in brand purchasing for WIC recipients. Abbott has reached a deal with the FDA to reopen the plant, but I do wonder if families are prepared to trust their products again so readily. Years after melamine-tainted formula was sold in mainland China, many Chinese parents still try to source formula from Hong Kong, often resorting to smuggling.
Inspection, Testing & Analysis.
Akin's Laws of Spacecraft Design are practical, funny, and broadly applicable. Some of my favorites include:


Your best design efforts will inevitably wind up being useless in the final design. Learn to live with the disappointment.




A bad design with a good presentation is doomed eventually. A good design with a bad presentation is doomed immediately.




There's never enough time to do it right, but somehow, there's always enough time to do it over.


Tangents.
A grain ship in harbor at the Port of Portland by Charlie Loyd.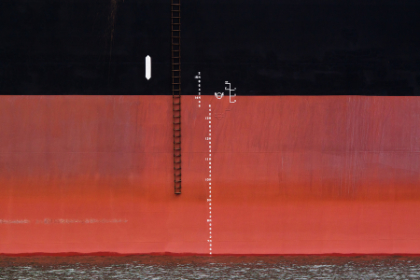 Thanks as always to The Prepared's Members for supporting The Prepared. Thanks also to Reilly, Fred, Ben, Adan, David, and Dave for the links.
Love, Hillary Predko
p.s. - We care about inclusivity. Here's what we're doing about it.
---