Notes, 2022-01-17.
I recently discovered a massive amount of water damage above my garage entry, the result of a poorly installed piece of flashing when my house was built a few years back. It struck me that such a tiny installation error, left unaddressed, could become a big (and expensive) problem.
Many other homeowners have had similar experiences, I'm sure. Houses with vinyl siding like mine look good with relatively little maintenance, but can hide the slow and steady progression of deterioration beneath.
In How Buildings Learn (our reading group book this month), Stewart Brand addresses this exact tension when he asks, "Do you want material that looks bad before it acts bad, like shingles or clapboard, or one that acts bad long before it looks bad, like vinyl siding? A whole philosophy of maintenance falls one way or the other with the answer."
More often than I care to admit, I choose solutions like vinyl siding. In the short term, I can (blissfully) ignore developing problems hiding behind a pristine facade. I'm learning, however, that while shingles and clapboard require more attention and continuous work, the investment is usually worth it (in maintenance and in life).
---
The most clicked link from last week's issue (~9% of opens), for the second week in a row, was a TikTok video of an overengineered sandwich. In the Members' Slack, we'll be discussing How Buildings Learn with Stewart Brand on 2022-01-21, followed by a chat about designing a house to last 1000 years with Brian Potter 2022-01-28.
Planning & Strategy.
In 1959, a Volvo engineer named Nils Bohlin patented the three-point safety belt used in most vehicles today. Rather than capitalize on a superior safety feature, Volvo released the patent to all car manufacturers. This decision (and the invention itself) are credited with saving millions of lives.
BMW is building "digital twins" of some of its manufacturing lines to assist with design and process improvement. This piece describes an electric drivetrain assembly line in Bavaria that is getting the treatment.

The term "digital twin" has been around for some time in the predictive maintenance world. It usually refers to a virtual model of a physical asset - usually an expensive, complex machine like a jet engine or a wind turbine. When this machine is put into service, the model (the digital twin of the machine) runs in a continuous simulation - the results of which are used to predict failures that might pop up in the machine itself. To keep the digital twin honest, sensors are installed on the machine, and data is fed from those sensors back into the digital twin. So if your offshore wind turbine is hit by a hurricane, the digital twin is subjected to the same strain that the actual turbine underwent - and engineers back at headquarters can simulate how much damage it might have sustained and schedule maintenance accordingly.

But what BMW seems to be doing here is supporting an entire production process - simulating the way the factory will operate, and using the results of that simulation to guide the design of the building and any process improvements they may want to implement down the line. They're doing this with Nvidia's Omniverse Replicator engine (which is apparently adapted from Pixar's open source Universal Scene Description project).
All the hype and controversy around the Metaverse has overshadowed some of the novel engineering work happening at companies like Meta (formerly Facebook). This 2020 talk by Douglas Lanman, Director of Display Systems Research, discusses the way scientists and engineers are building varifocal lenses to tackle the "vergence accommodation problem," an issue that occurs in VR when your brain receives conflicting cues about the distance and focus of a 3D object. Vergence accommodation can cause issues like eye strain and headaches, but Lanman and his team have built a system that tracks where your eye is aimed and focuses the image appropriately.
Making & Manufacturing.
Maintenance, Repair & Operations.
A remarkably thoughtful piece by Shannon Mattern on the history of hardware stores, which diverged from "general stores" at the turn of the 20th century, leaving behind "soft" goods like textiles and food and focusing instead on "hard" goods like fasteners and tools. Hardware stores have played (and continue to play) an important role in local communities: They are "a place of exchange based on values that are evidently in short supply...competence, intention, utility, care, repair, and maintenance."

For more of this goodness, check out this collection of stories from hardware stores that I thoroughly enjoyed reading last year.
A nice essay praising "dumb boxes" - the simple box-shaped buildings that don't always excite our artistic sensibilities. It turns out that this architectural form is less expensive to build and maintain, has a smaller carbon footprint, and lasts longer than buildings with recesses or other facade modulation.
Distribution & Logistics.
This article describes the second lives of many huge Sears Roebuck buildings. What once were massive mail order warehouses or retail stores are now swanky apartments, office buildings, and mixed use commercial space.

Given the great variety of modern uses, it can be tough to imagine what the original facilities must have felt like. This collection of 50 stereo photographs, along with detailed descriptions, documents the flagship facility in Chicago in 1906. My favorite photos are of its pneumatic tube station (old school email), the card index department (old school sales force), and the "magnificent" engine room.
I recently learned about The Container Guide, a field manual that helps you identify shipping containers and the corporations that own them. It is structured very much like a classic birding guide, so you can turn a visit to your local port into an enjoyable day out.

Related, The Port of Rotterdam is the largest in Europe and one of the most automated in the world. This video (and this one, which is a bit more produced) gives a sense of how its unmanned cranes and automated guided vehicles move 14 million TEUs (20' trailer equivalents) per year. Before you ask, the robots can't fix the port congestion problem: Port officials expect that Rotterdam will be backed up through the end of 2022.
Inspection, Testing & Analysis.
Tangents.
This fun piece, by Prepared member George Cave, uses LEGO interface panels to explain the principles of physical interface design.
Assemble with Care is a lovely little game (iPhone, PC) where you get to know a community by repairing broken objects that people bring you. It's not too challenging, but it's a relaxing way to spend a few hours.
same.energy is a visual search engine. Search for a term or upload an image and it will surface a collection of similar images. It's great for inspiration, and uses tech similar to CLIP from OpenAI.
A view from the inside of a Lockey Hill Cello, by photographer Charles Brooks.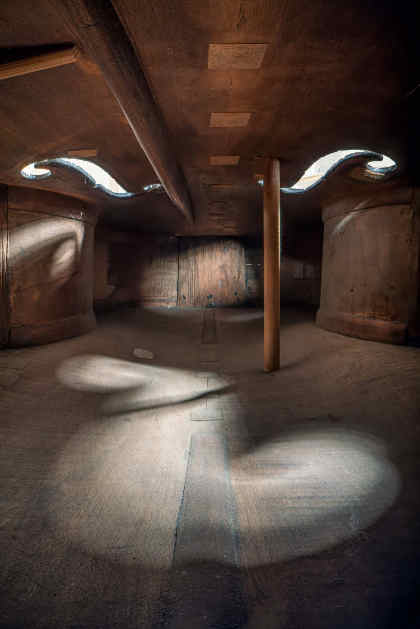 Thanks as always to The Prepared's Members for supporting The Prepared. Thanks to Andrew, George, Kevin, Matt, and Randy for providing links.
Happy Monday, James
p.s. - We care about inclusivity. Here's what we're doing about it.
---