Note: This issue is an update to theprepared.org's longstanding Tool Guide! You can see photos of everything in this issue - and every tool we've recommended since 2016 - here.
Notes, 2021-11-29.
I would not have expected it, but 2021 was a pretty fantastic project year for me. I built a fairly complicated workbench. I did my first ever project made from rough sawn lumber. I did my first TIG welding in about a decade, took a router to a bunch of 12 mm plexiglass, made a bunch of nice fine shavings with a bench plane, and bought my 4 year old her first knife. Each of these projects presented its own frustrations, but in the end I (usually) prevailed.
Below is a record of the tools that enabled this weird collection of mostly extracurricular activities. Perhaps the whole thing is self indulgent, but it's something I look forward to every year - and anyway I promise you that it's deeply, nerdily sincere. Whatever your line of work, please send in your favorite tools too; I'd love to try them out :)
---
Ironically, the most clicked link from last week's issue (~6% of opens) was the entry on Kaizen Foam from our 2019 Tool Guide - something I have recently soured on due to the way it stubbornly refuses to be adapted over time. The thread on the Members' Slack that I've been most keen on, therefore, was a scheme to develop our own (probably open source, definitely TPS friendly) tool chest organization system. Join us, won't you?
Planning & Strategy.
Making & Manufacturing.
My desk is directly next to my workshop, and I often find myself on group Zoom calls while one of my (fantastic and totally gracious) shopmates is doing work nearby. Tools that run quietly are, as a result, prized - and our new California Air Tools 1 HP air compressor gets a bunch of points in this category. It's small (we'll eventually put it underneath a workbench) and sized for relatively light work (it does 3 CFM at 90 PSI), but at only 60 dB it's pretty easy to carry on a conversation while it's running. I also added an Efficient Velo Tools 3-in-1 tire inflator to the system, which just might be the ideal Presa/Schrader tool that I've been searching for all these years.
After converting my old Bosch 1617 into a router table, I decided that the wood shop simply needed a new general-purpose router - and was *so* happy to have an excuse to get a Festool OF 1400 EQ. Like everything they make, it really is well thought out - from the ratcheting spindle for easy bit changes to the excellent dust extractor to the totally easy and secure column clamp.
I bought two new Japanese woodworking tools this year: A 210 mm ryoba pull saw for fine ripping and crosscutting, and a Shinto saw rasp for general wood shaping. The rasp in particular is noteworthy - it's so much more effective than traditional Western rasps that it may as well be its own category of tool.
Maintenance, Repair & Operations.
I've been using standard Park Tools bike stands for about twenty years, and was always a bit puzzled at the fancy upgraded clamps that started popping up in shops recently. But after adding a frame bag and then a dropper seatpost to my daily bike, I understood the need for narrower, more delicate jaws - and upgraded my primary stand to an Efficient Velo Tools Right Arm clamp. It's quite nice: the jaws are protected with durable leather patches, and its offset design really does help balance the bike as you rotate it. The setup makes working on my bike a lot easier - and the screw clamp system is, if anything, quicker than Park's toggle clamp.
After Shop-Vac was shuttered last year (and before it peeked its head back out under Hangzhou GreatStar Industrial), I made a series of upgrades to the shop's maintenance department. First, I added a Festool Workshop Cleaning set to our CT 26 dust collector; together they make for a nice, comfortable floor vacuum. Next, I threw down for a proper rope mop and a matching bucket: A Rubbermaid Commercial model with a big side-press wringer (from which I will never return to consumer-grade mops). Lastly, I put our big trash can on a Rubbermaid rolling dolly, which makes trips to the dumpster *much* easier.
I keep the majority of my nice tools at work these days, and my old Gersner tool chest at home is mostly full of old driver's licenses and (sigh) vaccine cards. But for little repair projects around the house, I'm now the proud owner of a Trusco tool box - a beautiful, utilitarian Japanese box that's cute enough to keep out when guests come over. Trusco's product lineup is pretty broad; make sure to check out the cantilevered double-decker models, as well as the little suitcase shaped ones designed for putting under a driver's seat.
Distribution & Logistics.
The Prepared's wood shop got a few big upgrades this year, each of which needed to confront the reality that a) at 25 m2, space is fairly tight, and b) there aren't any walls between the wood shop and the rest of our space, which is used for electronics, design, and general office tasks. The resulting problem is one of maximizing the use of available floor space (i.e. everything must be on wheels) and diligently controlling all chips and dust.

The fist step of the process was to install a big vinyl strip curtain, which (along with decent dust extractors) does a surprisingly good job at keeping the whole workspace clean. Next came a (heavily modified) Paulk-style workbench, which quickly became the centerpiece of the shop. It opened up a range of additional accessories: Festool MFT clamps to quickly fixture a workpiece; a JessEm router lift to make all sorts of routing tasks easier and safer; a set of Festool quick clamps and UJK dog rail clips to speed up work with our TS 55 tracksaw. The Paulk workbench also holds our table saw and serves as an outfeed table, and has built-in storage for commonly used tools and fixtures. And, the whole thing is mounted on a Flexpipe base, which has both casters and fixed feet and can be repositioned or scooted fully out of the wood shop in just a minute.

At the same time, we upgraded our storage systems for both full sheets of plywood and mouldings/dimensional lumber. Full sheets now sit on a Panel Handler (h/t David), which can be moved around easily *and* tips over into a horizontal position so you can load sheets onto the workbench easily. Smaller parts are stored on a Moulding Cart, which is super lightweight and telescopes out to 72".

Finally, a few small materials handling upgrades: A high visibility L pushstick for the table saw, and a Grr-ripper pushblock for ripping, routing, and other woodcutting activities.
I thought they were a little silly when I first saw Chad using one, but I got a stem pouch for my bike this year and now I use it *all* the time - it's my go-to place to store my wallet, keys, and face mask every time I hop on the saddle. I also fell in love with Austere Manufacturing's aluminum strap buckles, which are quite cute to look at and *so* much nicer than any strap buckle I've used in the past. After getting a few of their pre-made straps, I nabbed a few bare buckles and some Mil-spec nylon webbing and, using an old Singer 28K sewing machine that Andrew donated to The Prepared's shop, have been sewing my own utility straps for all sorts of load carrying.
Inspection, Testing & Analysis.
I finally gave up the ghost on my old Canon 5D this year, taking Eric's recommendation and upgrading to a new mirrorless Canon R6. It's a very nice camera - fast, relatively compact, and much more user friendly than the 5D. I use it with Luma Labs' Arca Loop, which lets me shoot photos and video easily whether on the tripod or off the shoulder.
theprepared.org's own shipping pallet coasters 🚢📦🍻.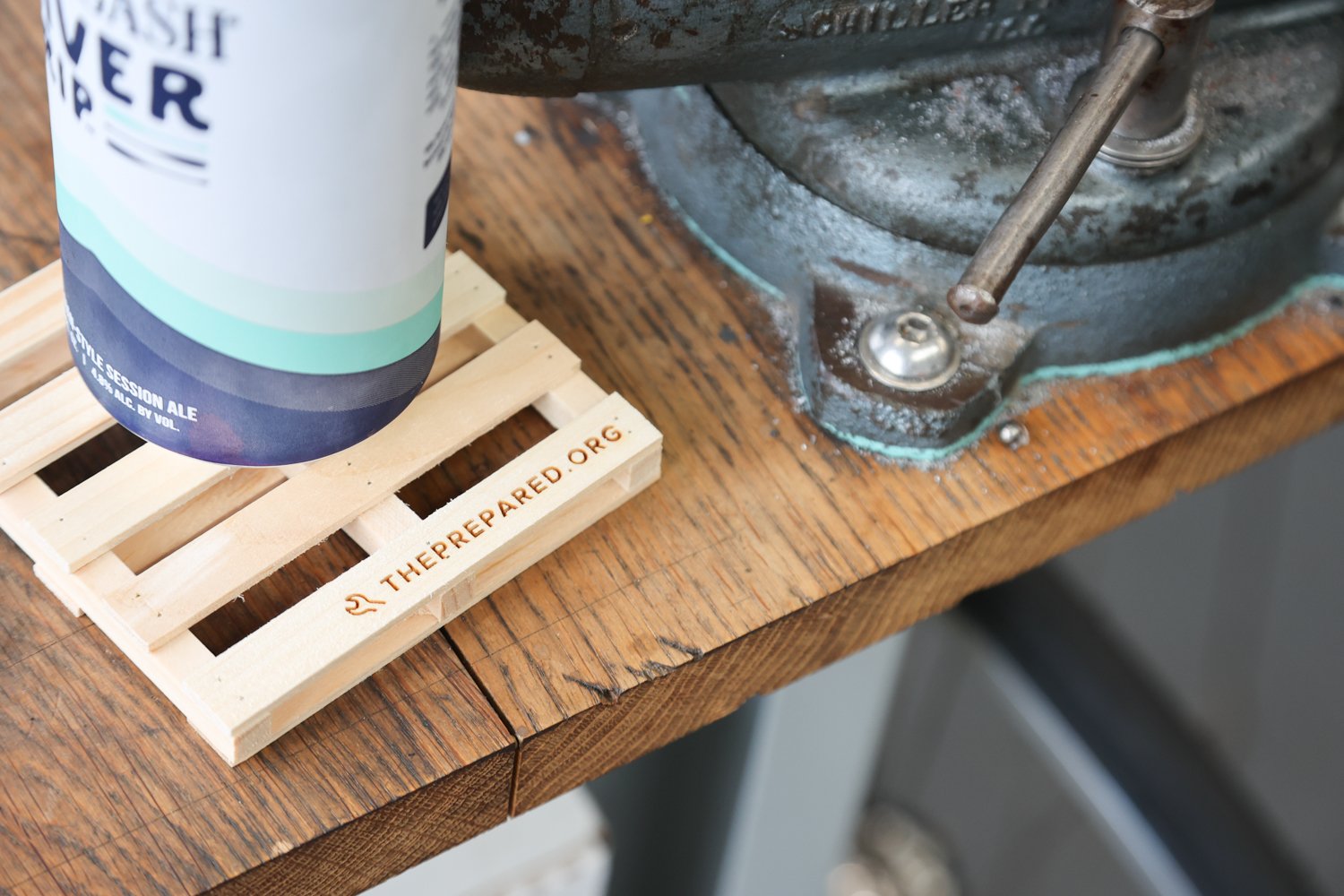 Thanks as always to The Prepared's Members for supporting The Prepared. Thanks also to my amazing shopmates at theprepared.org's Brooklyn HQ: Gabe, Mark, Rohan, Mats, Joey, Chad, Becca, and Jeremy. You all are awesome; thanks so much for putting up with my weird tool nerd tics. Finally, thanks to everyone in the #tools channel in the Members' Slack for their recommendations, especially on the air compressor (and a few new upgrades I have in the works); your opinions mean a *ton* to me.
Love, Spencer.
p.s. - We should be better friends. Send me a note - coffee's on me :)
p.p.s. - We care about inclusivity. Here's what we're doing about it.
p.p.p.s. - We're always looking for interesting tools to try out. Send them here.
---