A very warm welcome to our newest sponsor, Scale For ClimateTech - a manufacturing accelerator for climate focused hardware startups.
Notes, 2021-08-23.
Last week the Members' reading group discussed David Graeber's Of Flying Cars and the Declining Rate of Profit, which argues that we reached a technological plateau in the 70s and now exist in a world of ever increasing bureaucracy enabled by neoliberal capitalism. Nobody in our conversation entirely bought into Graeber's premise. For one thing, Graeber talks ad nauseum about the failure of technological innovation to produce the things science fiction promised (viz. flying cars) but mostly ignores more meaningful technological gaps. Also bureaucracy, while tedious, often provides crucial safeguards against corruption and exploitation (and may be as inherent to organizations as entropy is to the universe).
Either way, the essay provides an excellent jumping off point for conversations about economic trajectories and how innovation emerges in the face of crisis. Which is kind of the reading group's wheelhouse: Looking at the books we've read over the past year, we keep gravitating toward works that analyze the role of innovation in systems. I don't imagine we'll find an answer; there wouldn't be so many books on the topic if there were a general societal consensus, but I enjoy stretching my thinking on macro concepts with smart people.
---
The most clicked link from last week's issue (~16% of opens) was a teardown of Apple's iPhone charger.
This Friday, 2021-08-27, Spencer will be in Seattle for an IRL hangout with Members of The Prepared. If you're in the Seattle area, join today and meet up with us for beers in Ballard!
Planning & Strategy.
From Deb Chachra, an essay rethinking civil engineering in the face of climate change, calling for systems of infrastructure oriented toward collective justice. Her description of being a collective cyborg is particularly compelling: "Alone in my apartment, when I reach out my hand to flip a switch or turn on a tap, I am a continent-spanning colossus, tapping into vast systems that span thousands of miles to bring energy, atoms, and information to my household." Also see Deb's 2017-09-10 issue of The Prepared, which covers the "systemic sublime" and the ways in which developments in material science trickle down to the products we use.
Before Muslim astronaut Sheikh Muszaphar Shukor headed to the ISS, Islamic scientists and scholars determined guidelines for worship in space.
Making & Manufacturing.
When I drive down the highway, I love catching a glimpse of the two massive launching gantries that are building Montreal's new light rail network. This timelapse shows how the gantries slide forward to span two supporting columns before hauling up 50-ton concrete segments that get snapped together by workers to build the raised platform.
Data centers across the US are experimenting with methods to recycle hard drive magnet assemblies, aided by emerging policies from the Biden administration.
Maintenance, Repair & Operations.
Certain plant species are hyperaccumulators, able to move extraordinarily high amounts of metals from soil into their stalks and leaves without any ill effects. Hyperaccumulators are often used to clean up, or phytoremediate, decommissioned mines before being harvested and disposed of in hazardous waste landfills. Phytomining offers a potential pathway to remediate soil while continuing to extract more minerals, often in higher concentrations than traditional ore. Initial research in nickel-rich soil shows commercial viability for agromining.
Fire lookout towers across the US are outfitted with Osborne fire finders - analog tools used to precisely locate wildfires. These instruments are specialized alidades, and when smoke or fire are sighted through the crosshairs, the user can get accurate information about the fire's distance and heading. The original devices are over 100 years old and the original manufacturers have shuttered. Rather than developing a digital alternative, fire lookout personnel worked with federal agencies to develop CAD drawings, find new vendors, cast new parts, and keep the instruments in use.
Maker Emily Velasco gave Prusa a shoutout on Twitter when her 3D print kept going after a blackout. Founder Josef Prusa jumped in to explain how their machines store the progress in the current G-code line so the print can restart seamlessly when power returns. I appreciate Prusa's attention to detail, like the candy breaks included in their assembly instructions.
Distribution & Logistics.
Inspection, Testing & Analysis.
I really enjoy watching gemologists differentiate varieties of stones that appear similar to the human eye. A neat tool of the trade is the polariscope, used to determine the axial structure of the gems.
Tangents.
A timelapse of the Port of Oakland by Cranes and Clouds.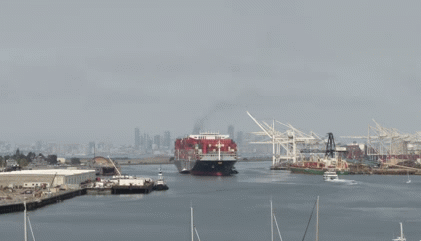 Thanks as always to The Prepared's Members for supporting The Prepared. Thanks also to Aaron Rose for leading the Graeber discussion and to Nih Mohan, Kate Jakubas, Xavier, Lee, and the TikTok algorithm for links.
Love, Hillary
p.s. - I am advocating for the reading group to read a novel soon. Send me any suggestions for fun manufacturing or infrastructure related novels, preferably science fiction.
p.p.s. - We care about inclusivity. Here's what we're doing about it.
---