Notes, 2021-03-29.
I crack up every time I see this LinkedIn post about bullet holes in WWII aircraft. It's supposed to be about thinking outside the box, but everyone's sharing the exact same story. Maybe there's another box outside the normal box -- the "outside the box" box, where those posts come from.
But I get it, we're all looking for that unique insight that will give us an edge. Fear not, dear reader, I have collected some links guaranteed* to get you (and the 10,000 other readers of this newsletter) thinking in a one-of-a-kind way.
* Results may vary.
---
The most clicked link from last week's issue (~12% of opens) was a good, succinct argument for ISO 8601, the date/time spec which this newsletter abides by.
Popular threads in The Prepared's Members' Slack this week include one on the practical benefits of Festool vs. everything else, one on the relative costs of bikes and cars, one that concluded with the idea of 80/20-shaped pasta, and a bunch of interesting tidbits from the USPS's "Ten-Year Plan to Achieve Financial Sustainability and Service Excellence."
Planning & Strategy.
The pace of development in Formula 1 is furious (Albert Fabrega is a good follow to track the subtle changes), but I do wish the rules would open up to allow more adventurous ideas like the Tyrrell P34, a car with six wheels that starred in a cool onboard video from Monaco in 1977. Technology created for racing has made its way to production cars in the past, but it feels like that may become rarer in the future with tighter regulations.

       My favorite race, for that reason, is the Pikes Peak International Hill Climb -- as long as you have basic safety equipment, you can race anything, including a semi-truck. I was at the race in 2012 and wrote about the experience. I was interning for Palatov Motorsport, a tiny performance car maker in Portland started by Dennis Palatov, who's documented his progression from sketches on a napkin to race-winning cars.        

       The finish line of Pikes Peak is at 4,300 m (14,107 ft). The thin air is a challenge, making internal combustion engines and aerodynamic devices a third less effective. Gigantic wings and turbochargers were the solutions of choice for past drivers like Ari Vatanen, whose spectacular drive on the then-dirt road was captured in the award-winning short film Climb Dance. Recently, the winning formula has swung to… gigantic wings and electric motors. The current overall record is held by a criminally underrated racecar -- the Volkswagen I.D. R, which featured in this segment on Top Gear.        

       So, to stimulate similar innovation, here's my radical proposal for F1: cap the energy that cars can use in a race, but don't regulate how it's used. Everything is on the table -- electric, diesel, gas, hybrid, etc. The most efficient tech will eventually win out and we'll have a lot of fun along the way.
This thought provoking article argues that the patent system is broken, using the Wright brothers as an example.
I'm interested in the ways tools influence designs. One of the most striking examples is in the evolution of stealth design from the facets of the F-117 Nighthawk to the curves of the B-2 Spirit. As Ben Rich explained in Skunk Works, the angularity was necessary because "computers weren't yet sufficiently powerful … to allow for three-dimensional designs, or rounded shapes."

   Drafting tools have evolved significantly since those days as well. The switch from drafting to CAD has saved a ton of tablespace, but what influence does it have on the shapes we create? Maybe legendary F1 engineer Adrian Newey's continued use of a drafting board allows him to see different design concepts than CAD users. I wonder if new ideas in 3D modelling, like this stylus-based one or this lowpoly one, will affect designs in the future.
Making & Manufacturing.
Maintenance, Repair & Operations.
I have a beef with teeth. Most of the human body can handle all sorts of abuse. So why do teeth require constant maintenance? It made no sense until I read this article about the evolution and structure of teeth, which points to our diet as the issue.
Yaks, musk ox, and bison are some of the herbivores being introduced into the Siberian Arctic to promote the restoration of the grasslands that disappeared tens of thousands of years ago. The theory is multifaceted. The animals trample down the insulating snow and promote deeper freezing of the permafrost, which is currently at risk of thawing and releasing vast amounts of carbon into the atmosphere. And separately, herbivores tend to encourage grass growth over shrubs and mosses, increasing carbon sequestration and energy reflectivity.

   One of the herbivores that scientists would like to introduce is the woolly mammoth. Seriously. There is a job listing for "researching the science underlying Woolly Mammoth de-extinction." It doesn't seem impossible considering a black-footed ferret was recently cloned, becoming the first native endangered species cloned in the US. (Though it doesn't appear the ferrets are doing anything about climate change. Slackers.)
A thread on the history of borehole drilling and what the polycrystalline diamond cutter drill bit might mean for geothermal energy.
Distribution & Logistics.
2021-04-13 is Vaisakhi, a spring harvest festival and the biggest holiday of the year for Punjabis. Celebrate, enjoy a laddu, but spare a thought for the tens of thousands who've been protesting for over seven months against new Indian laws on agricultural trade. To sustain such a massive protest, an impressive support system sprang up nearly overnight. Cooking for the masses is nothing new to the Sikh protestors -- every Sikh temple, or gurdwara, offers free food to anyone who visits. The Golden Temple, Sikhism's equivalent of the Vatican, feeds 100,000 people a day with volunteers and machines that each churn out 6,000 chapatis/rotis an hour.
Shell recently bought the UK's largest EV charging network and met with a lot of skepticism over their motives. Some commentators referenced the General Motors streetcar conspiracy, a tidy explanation for Los Angeles' reliance on cars in which GM bought up and shut down alternative means of transportation in the 1940s. The reality of the streetcar situation was, as it usually is, more complex.
Inspection, Testing & Analysis.
Tangents.
If you're interested in absurd bracketry, British humo(u)r, or over-engineering, you'll enjoy this ongoing series on YouTube, which has documented the restomod of a classic Mini for seven years.
A reprojection of the Perseverance landing footage onto satellite imagery.
Food/drink related catastrophes:
The London Beer Flood of 1814, in which eight people died as a direct result of the vat failure and a ninth died a few days later after overindulging in salvaged beer.
Boston's Great Molasses Flood, in which an 8 m (30 ft) tall wave of molasses killed 21 people in 1919.
The Honolulu molasses spill, which killed 26,000 fish in 2013.
The Pepsi Fruit Juice Flood, in which 28 Olympic swimming pools' worth of juice flooded the town of Lebedyan, Russia in 2017.
Visualizations of the output of South African mines.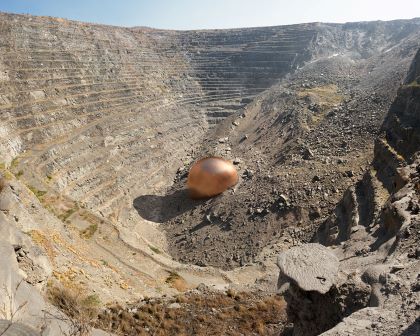 Thanks as always to The Prepared's paid subscribers for supporting The Prepared. And thanks for reading.
Love, Surjan
p.s. - If you liked what you read, consider checking out An Engineering Self-Study, where I'm currently making a leaf-inspired trunk from natural composites.
p.p.s. - We care about inclusivity. Here's what we're doing about it.
---