Notes, 2021-03-08.
Hello Prepardians,
Did that sound odd to you? It did to me as well, and it sent me down the rabbit hole of demonyms: the words that define groups of people in relation to a particular place. But The Prepared is not a place—at least not geographically—and that train of thought led me to anthroponymy: the study of anthroponyms, the proper names of human beings as individuals and collectives. Anthroponymy is a branch of onomastics: the study of proper names which, interestingly, are similar to but not quite the same as proper nouns.
Why was I thinking about this in the first place? Because I've procrastinated on guest editing this edition of The Prepared (sorry Spencer), and in a sleep-deprived state of pensar en la inmortalidad del cangrejo ("Thinking about the immortality of the crab"), I've become fascinated with the idea that I can communicate these thoughts to you, reader, with combinations of 26 letters and 14 punctuation marks.
---
The most clicked link from last week's issue (~16% of opens) was a *really* beautiful video of Japanese kumiko crafts. In The Prepared's Members' Slack this week, a brand new channel for folks to dump fave patent drawings in.
Planning & Strategy.
Making & Manufacturing.
Maintenance, Repair & Operations.
Distribution & Logistics.
Inspection, Testing & Analysis.
Tangents.
My housemates recently went up in a helicopter to observe the traffic jam in the Port of Oakland.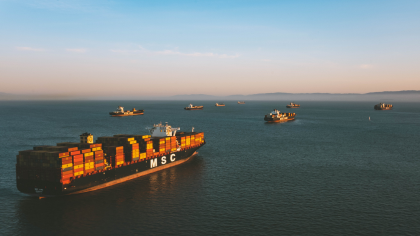 Thanks as always to The Prepared's paid subscribers for supporting The Prepared. A special thanks to housemates Kevin and David for keeping me sane during shelter in place.
Love, Kane
p.s. - I'm trying to broaden my reading horizons, and I'd love to hear about any book that recently resonated with you.
p.p.s. - We care about inclusivity. Here's what we're doing about it.
---